La Bombonera Stadium
TIME : 2-22 9:13:44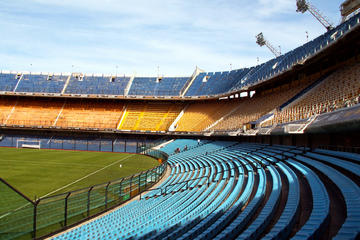 La Bombonera Stadium
The beloved Boca Juniors soccer team plays its games at Alberto J Armando stadium, affectionately known as La Bombonera (Spanish for "the Chocolate Box"). It has a capacity of 49,000 and is known for vibrating when fans start getting too antsy – either from happiness or disgust – and start jumping in rhythm.
A behind-the-scenes tour of the stadium is a fascinating look at the sport that that most Argentines live and die by and the Buenos Aires soccer team that was founded in 1905 by five boys living in La Boca neighborhood.
Visit the interactive Museo de la Pasión Boquense, the first soccer museum in the Americas, and walk out on to the famous soccer field pitch, where you can close your eyes and imagine the roar of the passionate crowd.
You Might Also Like