Santa Susana Ranch
TIME : 2016/2/22 9:14:24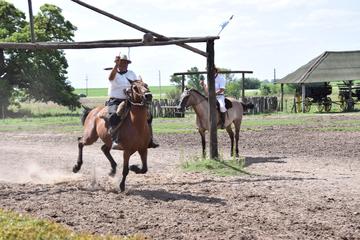 Santa Susana Ranch
Located in the pampas of Buenos Aires Province outside the capital city, Estancia Santa Susana (Santa Susana Ranch) is one of the region's most popular destinations for experiences a taste of traditional gaucho culture. Founded at the end of the last century by an Argentine citizen of Irish decent, the ranch encompasses 2,965 acres (1,200 hectares) of land, originally used for agricultural activities, including cattle ranching.
Visitors to Santa Susana Ranch are greeted with two Argentine specialties, piping hot empanadas and wine. After a tour of the grounds by carriage or on horseback, including a stop at the Spanish-colonial house which now contains a museum, guests are treated to a parrillada, an Argentine-style barbecue that remains a popular weekend tradition even among modern Porteños. Tango dancers and folk singers entertain during the meat-centric lunch.
In the afternoon, visitors to the ranch sit back and watch as a group of gauchos show off their impressive horseback skills.
Practical Info
Santa Susana Ranch is located 48 miles (78 kilometers) from the capital, so plan to spend the entire day enjoying the activities at the ranch.