Bodegas Salentein
TIME : 2-22 9:15:18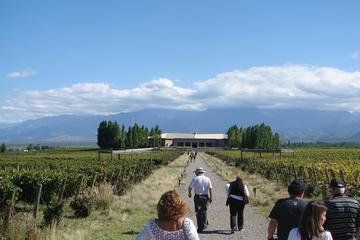 Bodegas Salentein
The Bodegas Salentein, located in Mendoza's Valle del Uco (Uco Valley) has the largest "cool climate estate" in Mendoza. The estate covers almost five thousand acres, over 1,000 of which are planted with grapes in three different plantations, ranging in altitude from 3,000 to about 5,500 feet. They plant 80 percent red and 20 percent white grapes, and are well-known for their malbec, merlot, chardonnay and pinot noir wines.
In addition to wine tours through the cellars with more than 5,000 barrels, and tastings, the winery also has a restaurant and wine bar serving Argentine food beside their award-winning wines. There is also an exhibition space called Killka which houses paintings by Argentine and Dutch masters. Finally, there is a chapel on the grounds, inspired by Andean architecture, with earthen walls, which features lead and granite sculpture and benches carved from old olive trees. The chapel is shaded by carob trees.
Practical Info
Make a day of it by taking a tour that includes architecture, art and wine, or even add a horseback riding tour at the Salentein winery.