Salinas Grandes
TIME : 2-22 9:17:33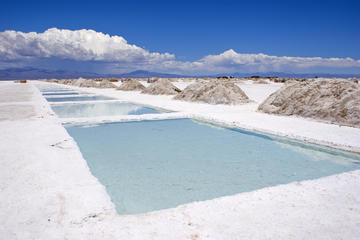 Salinas Grandes
One of the most otherworldly sights to see in the Salta area is Salinas Grandes, a giant salt plain that seems to glisten in the sunlight and spread out as far as the eye can see. The flat expanse of almost blindingly white salt crust and the (usually) clear blue sky together create a vista similar to the more famous salt flats of Bolivia.
The natural landscape is stunning as-is, but also interesting are the square basins cut from the crust of salt that create glassy pools of water and newly formed salt crystals. You'll also find a building made entirely of salt bricks and decorated with salt furniture, and local artisans sell small carvings made from salt, which make unique and inexpensive gifts or souvenirs to carry home with you.
Practical Info
It's possible to visit Salinas Grandes on a day trip from Salta City, but be prepared for a long day. It's easier to visit from Purmamarca in Jujuy Province.
You Might Also Like