San Francisco Church
TIME : 2016/2/22 9:17:46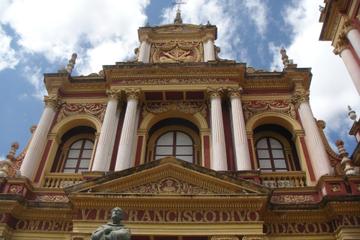 San Francisco Church
The San Francisco Church and Monastery in Salta, Argentina was originally built in the early 1600s, but it has been reconstructed and remodeled several times. In 1870, architect Luis Giorgi constructed a tall tower on the front of the church, and at 174 feet (53 meters) tall, it is the highest tower of its kind in South America. In 1909, a clock was added to the tower. In 1915 marble floors were installed and the church was set up to start receiving electricity. It has a long, narrow nave that is ornately decorated. The church's facade designed in a Baroque style and is distinct in its red and yellow color scheme. 
The church has an important library where old books are kept, including rare and priceless antique editions. Several pieces of valuable art can also be found in the church and in its small museum. The San Francisco Church was declared a National Historical Monument on July 14, 1941. 
Practical Info
The San Francisco Church is located at Córdoba 33. 
You Might Also Like