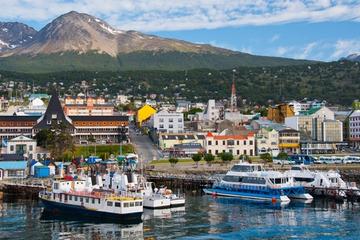 Ushuaia Cruise Port
Founded as a penal colony, Ushuaia is the southernmost town in the world. This rustic town is also the jumping off point for cruising to Antarctica or exploring the Tierra del Fuego ("Land of Fire"). As such, it is a major tourist destination for Argentinians and foreigners alike.
How to Get to Ushuaia
When you dock, you will already be in the heart of Ushuaia – and just a block from the main shopping street, San Martin. Taxis are available to take you further afield, but they are not metered, so you will need to negotiate your price.
One Day in Ushuaia
Chances are, you will be visiting Ushuaia to explore the surrounding mountains, forests or lakes. Cruise ships typically offer several possible excursions or you can arrange something independently through a travel agency, or by simply hiring a taxi when you arrive in port.
Tierra del Fuego National Park, about 10 miles outside of Ushuaia, is one of the largest nature reserves in the world. You can go horseback riding, bird-watching, hiking or mountain biking or visit the end of the Pan-American Highway at Lapataia Bay - almost literally the "end of the world." You might also ride the "Train at the End of the World," a steam-driven train that follows the River Pipo into the park.
Those who haven't yet had a chance to see penguins on their journey may want to visit the Hammer Island Penguin Rookery, which provides an up close look at Magellanic penguins. Discover some of the region's wildlife on a catamaran trip through the Beagle Channel, or take a chair lift to the top of the Martial Glacier for a magnificent view of the channel.
If you want to explore the town, start with a stroll along Malvina Argentinas Street, passing a reconstruction of the old town. Then head down San Martin to Yaganes, where you will find the Ushuaia Prison Museum. The museum is a combination prison museum and maritime museum and includes exhibits detailing the history of Usuhuaia from the time it was first settled. Retrace your steps to San Martin to do a little shopping and then take the ski lift up above the city. Enjoy an amazing view while indulging in an Argentinian steak or some of the area's superb seafood.
Port Information
The official language is Spanish, but it is common to hear English, German and Portuguese as well. The currency is the Argentinian peso. ATM's are widely available and credit cards should be accepted in most places. There is a visitor information center at the dock with maps and information about the area, as well as an internet kiosk and handicraft vendors.