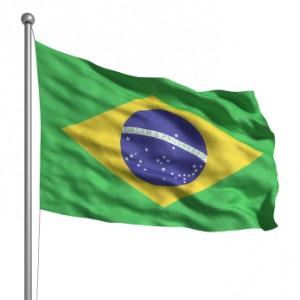 Last week, I wrote about some of the favorite blogs I like to read that are written by expats who live in various regions of Brazil. Although many delve into myriad aspects of life in Brazil, they largely do so through an autobiographical filter similar to that of a journal or diary entry.
This week, I wanted to follow up by sharing some interesting English language blogs that, instead of focusing on expat lives, shine a light on various themes or topics related to Brazil, its politics, economy, culture and society. Taken together, these make for insightful, entertaining and informative reading for Brazilianists of all stripes:
Adventures of a Gringa is authored by 27-year-old Rachel, who lives in New York City with her Brazilian husband, but makes frequent trips back to Rio. Aside from providing intelligent analysis of current events covered by national and foreign media, she publishes many interviews with leading Brazil specialists. Posts are generously peppered with useful links.
Andrew Downie's Brazil Blog offers critical and often quite pithy commentary on Brazilian current events, culture, and sports. For years, Downie has worked as a Brazil-based foreign correspondent for leading media publications including Time, The Financial Times, and Reuters.
Brazilian Bubble is written by an anonymous group of Brazilian and American business professionals who offer up-to-the-moment coverage of the latest Brazilian business, economic, and financial news in a concise and often wry manner.
Brazil Travel Blog is authored by Tony Gálvez, a Spanish expat who spent years living in São Paulo. His discriminating traveler's tips and information are spot-on, and his many journeys, illustrated with captivating photographs, making for enticing reading.
Flavors of Brazil is is a blog penned by James, a Canadian expat based in Fortaleza, Ceará. It offers a culinary tour of Brazil with highly appetizing descriptions of regional dishes and local foodstuffs, spiced up with tantalizing photos, recipes and sprinklings of local food culture.
Hunting White Elephants is a unique blog by Christopher Gaffney, a professor of architecture and urban studies at the Universidade Federal Fluminense. The "white elephants" in question refer to the projects under construction for Rio's 2014 World Cup and 2016 Olympics, and their ramifications, all of which Gaffney deconstructs using a melange of "critical geography" and investigative journalism.
Observing Brazil offers interesting and educated insights into Brazil's thorny political culture and backstage dealings by Rio-based Canadian expat and political science professor, Greg Michener.
Rio Real is the bilingual blog of Julia Michaels, a Rio-based expat who has been in Brazil since 1981. An investigative journalist familiar with Rio's complex political and social milieus, Julia's pieces focus on the massive and often controversial transformations currently taking place in the Cidade Maravilhosa.