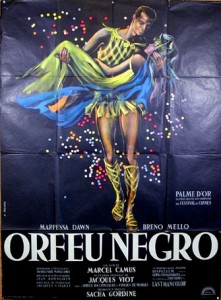 I'm ashamed to confess to that up until a week ago I had never seen one of the most iconic Brazilian films of all time: Orfeu Negro (Black Orpheus). Actually, the film was a Franco/Italian/Brazilian co-production. French director Marcel Camus' screenplay (with Jacques Viot) was adapted from the play Orfeu da Conceição by Brazilian poet/composer/diplomat and bon vivant Vincius de Moraes.
The play transposed the classic Greek myth of Orpheus and Eurydice to a Rio de Janeiro favela during Carnaval (instead of playing a lyre, Orfeu composes sambas for the favela's samba school). The production made its debut in 1956 at Rio's Theatro Municipal. It must have been something to behold (and listen to) with sets designed by Oscar Niemeyer and original music by Vinícius and Antonio Carlos "Tom" Jobim. In fact, the music marked the beginning of a musical match made in heaven between Tom and Vinicius.
Upon its release in 1959, the film caused an international sensation, nabbing a Palme d'Or at Cannes and an Oscar for Best Foreign Film.
As for Orfeu the film, Camus shot it on location around the actual favela that sits (to this day) perched atop the Morro da Babilônia, a stunning mountain top that straddles Urca's Praia Vermelha and Praia do Leme (which segues into Copacabana). The live location was a revelation, but even more radical was Camus' decision to use a cast that – with the exception of African American actress Marpessa Dawn in the role of Eurídice – was entirely Brazilian, Portuguese-speaking, and, for the most part, black.
Upon its release in 1959, the film caused an international sensation, nabbing a Palme d'Or at Cannes and an Oscar for Best Foreign Film. A song that had been composed especially for the film by Tom and Vincius, A Felicidade (Happiness), became a massive international hit and made instant stars of Jobim as well as a new style of music: the bossa nova.
It's ironic that it was the bossa that made such an impact seeing as the movement is associated with Cariocas of the Zona Sul who were educated, wealthy, and white. The film's "black" samba music didn't have the same repercussion, a fact that must have assuaged white Brazilians elites of the day, who weren't enamored of the image projected of a Brazil inhabited by poor, macumba-worshipping blacks; aside from scenes of Carnaval mayhem and merrymaking, the film depicts an Umbanda ceremony (Vinicius, who called himself the "branco mais preto do Brasil" (blackest white man in Brazil), was an adept of the Afro-Brazilian religion).
Personally, aside from some slow patches, I was quite impressed by Orfeu, which I found to be lyrical, original, and ultimately moving. I admit that I had gone into the theater expecting – due to its age and the fact it was made by a European – that the film would be somewhat "folkloric." I came out with my expectations shot down.
Although not "realistic" (and not pretending to be), I think that Orfeu Negro nonetheless succeeds in capturing a certain essence of Brazil. While it's vision of favela life is a far cry from Fernando Meirelles hyper-realistic Cidade de Deus (City of God), with its shoot-outs, gang wars, and pre-pubescent drug dealers, Orfeu Negro doesn't gloss over issues of race and poverty and includes dialogue that captures the easy vernacular of the time.
On my way home from the theater, I wondered about the film's reception – both then and now. Apparently, these days the film is more of a "cult" classic among international cinephiles than Brazilians. Some Brazilians critics object to what they see as an "imperialist" vision of poor, happy blacks reduced to singing, dancing, and getting caught up in the throes of passion. Others find fault with the acting, and it's true that the two protagonists give somewhat stagey, wooden performances. However, their limitations don't really destroy the mood of a stylized film that pretends to be more of a fable than a slice of social-realism.
Perhaps the reaction to the film that most surprised me was president Barack Obama's (recounted in his autobiography, Dreams From My Father), which is analyzed by Peter Bradshaw, a film critic at The Guardian. It turns out that Orfeu Negro was the all-time favorite film of Obama's mother Ann, who was blown away by its beauty when she first saw it as a 16-year-old girl in the Midwest. Years later, when she came to New York to visit her son, then studying at Columbia, and discovered that the film was playing at a rep cinema, Ann insisted on taking Barack, who describes the experience below:
"…Set against scenic green hills, the black and brown Brazilians sang and danced and strummed guitars like carefree birds in colourful plumage. About halfway through the movie I decided I'd seen enough, and turned to my mother to see if she might be ready to go. But her face, lit by the blue glow of the screen, was set in a wistful gaze. At that moment I felt as if I were being given a window into her heart, the unreflective heart of her youth. I suddenly realized that the depiction of the childlike blacks I was now seeing on the screen, the reverse image of Conrad's dark savages, was what my mother had carried with her to Hawaii [where she met Barack's father] all those years before, a reflection of the simple fantasies that had been forbidden to a white, middle-class girl from Kansas, the promise of another life: warm, sensual, exotic, different."
Hmmm… I guess Obama didn't like the film. As for Bradshaw, he ultimately disagrees with Obama's condemnation of Orfeu Negro, but he also raises an interesting point at how critical perceptions are influenced by culture, class, and race. It's something to keep in mind – whether you're watching a film, or traveling through a country.