Chacara do Ceu Museum
TIME : 2-22 10:00:07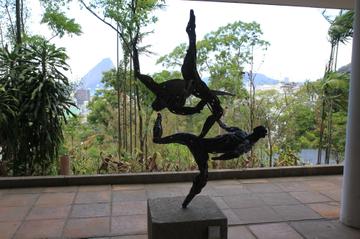 Chacara do Ceu Museum
Situated in a sleek, chic modernist house in Santa Teresa, Rio's bohemian quarter, the Chacara do Ceu Museum houses part of the vast art collection of the late Brazilian industrialist and aesthete, Raymundo Ottoni de Castro Maya. Over the course of his 74-year lifespan, Castro Maya amassed over 22,000 works of art, a large portion of which is displayed at the museum (the others are showcased at the affiliated Museu do Açude, Castro Maya's other house).
The Chacara do Ceu itself is a work of art, built amidst lush gardens in 1954 with a 360-degree panoramic view of Rio and the surrounding area. The name of the house and museum means "Country House of the Sky," and the views of both the city and the artworks are heavenly.
The museum features the works of Brazilian and international painters, sculptors, and engravers--from contemporary artist Candido Portinari to French Impressionist master Henri Matisse. Sadly, a Matisse, a Picasso, a Dalí, and a Monet were stolen from the museum in 2006 and never recovered. Still, the remaining items in the collection more than make up for the lost pieces, and the insanely low admission price ensures that art is accessible to the Brazilian public, to whom Castro Maya bequeathed his collection upon his death in 1968.