Jacuma Beach
TIME : 2016/2/22 10:02:05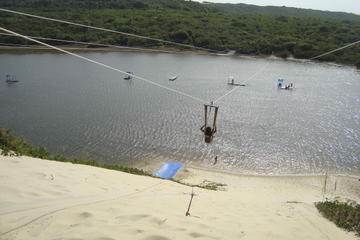 Jacuma Beach
This tranquil beach is surrounded by reefs that break up incoming waves, creating a peaceful environment and a cove that is ideal for swimming. The white sand beach is lined with tall palm trees that provide shade.
Located in the small fishing village of Jacumã, it is a relatively secluded beach not inundated with tourists or beach-goers. Known for its calm waters, tropical scenery, and fresh seafood, Jacumã Beach is a refuge away from the winds and the crowds of other Brazilian beaches.
For those craving a bit more adventure than relaxation, the nearby Jacumã Lagoon is a popular stop on dune buggy tours. The lagoon is naturally formed from rainwater falling on the sand dunes. Both "aerobunda," or zip lining across the dunes, over the water and finally into the lagoon, and "skibunda" or boarding down the sand dunes into the lagoon as well, are available here.
Practical Info
Jacumã Beach is located on the north coast 33 kilometers from Natal. It is approximately a one hour drive from Joao Pessoa, a capital of Paraiba.