Parque das Aves (Birds Park)
TIME : 2016/2/22 10:02:33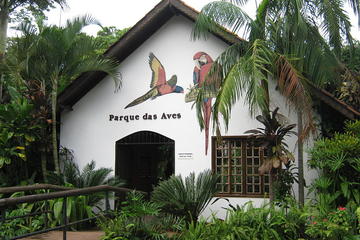 Parque das Aves (Birds Park)
The most famous residents of Iguacu's humid subtropical forests—the parrots, toucans, lorikeets, flamingos, and other brightly colored tropical birds—can be difficult for the casual traveler to spot in the rainforest proper. Since 1994, however, those of us without a birder's patience or cunning have been able to enjoy the airy aviaries of Birds Park, Latin America's largest.
Around 150 species enjoy spacious 8m (26ft) enclosures in this heavily wooded, five-hectare (12-acre) park, all thoughtfully designed by naturalists and owners Dennis and Anna Croukamp. It's a lovely stroll, and photographers will find ample opportunity for the perfect shot.
Other denizens from around Brazil include caimans, anacondas, boa constrictors, marmosets and scores of gorgeous butterflies. Other biomes, such as the African savannah and Australian outback, are also displayed, housing ostriches and curassows, and other exotics.
Photo courtesy of Jorge Andrade via Wikimedia Commons
Practical Info
Parque das Aves is conveniently located next to the national park entrance; visit the falls in the morning and Birds Park in the afternoon. Allow two hours to properly explore the park on paved wheelchair-accessible paths, longer if you plan to take photos. Some guides speak English. Bring sunscreen, insect repellant, and an umbrella if the forecast calls for rain.