Wire Opera House (Opera de Arame)
TIME : 2-22 10:03:04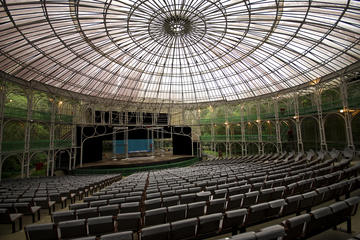 Wire Opera House (Opera de Arame)
With so many historical sites in the city, one that often graces Curitiba postcards is the Wire Opera House, a masterpiece of modern architecture. Surrounded by large boulders, a dense forest and a 29,000‐square‐foot (2,700‐square‐meter) lake, the structure sits atop a rock in a crater of an abandoned quarry and is made entirely of glass and steel pipes.
The theater was built in 1992 and can hold up to 2,400, all of whom focus on the enormous 4,300‐square‐foot (400‐square‐meter) stage and its excellent acoustics, set for the operas, ballets and plays that are hosted here. While walking along the pathway leading to the theater, travelers can look down and see water flowing beneath their feet in this natural area. To the left is also a 32‐foot (10‐meter) waterfall peeking out from the surrounding trees.
Practical Info
The Wire Opera House is located on Rua João Gava 970, in the Pilarzinho neighborhood. Admission prices vary based on performances, although the theater is open for free visitation Tuesday through Sunday from 8 a.m. to 8 p.m. when it is not in use. The easiest way to reach the site is via the Linha Turismo tourist buses or the many regular city bus lines that stop near Pedreira.