Leon Dormido
TIME : 2016/2/22 10:39:38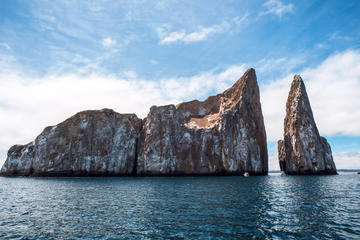 Leon Dormido
The translation of Leon Dormido, a giant rock formation rising sharply out of the ocean, is 'sleeping lion.' The remains of a lava cone split into two parts, in English it is also known as 'Kicker Rock.' The formations have eroded due to hundreds of years of weather and sea and now tower 500 feet above the water below.
Located off the coast of San Cristobal Island, boats that visit the rocks can navigate through the narrow channel between the two formations. Much marine wildlife does the same, and this is one of the most common places to see Galapagos sharks as well as turtles, rays and sea lions. It's an excellent spot for diving and snorkeling, as the mild current sweeping between the two rocks often means diverse groups of reef fish. Frigate birds are also common, and many other species can be seen above the water. Whether you conclude that the rocks resemble a lion or a boot, Leon Dormido is a Galapagos icon for a reason.
Practical Info
Located near the San Cristobal Island, Leon Dormido takes approximately one hour to reach by boat from Puerto Baquerizo Moreno. The site can only be visited by boat, and visitors must be accompanied by a guide.
You Might Also Like