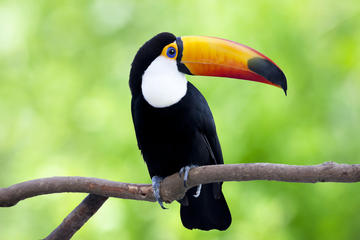 Pacaya Samiria National Reserve
Peru's largest and most important protected area is the massive Reserva Nacional Pacaya Samiria, a vast 2.08 million hectare (8,030 square miles; roughly the size of New Jersey or El Salvador) swath of pristine rainforest threaded with endless waterways. The two most important, forming the borders of the roughly triangular reserve, are Maranon and Ucayali Rivers.
Where Pacaya Samiria narrows to a point, at their celebrated confluence, the official birthplace of the mighty Amazon. Climb the viewing tower for the iconic photo. Visitors to the reserve must come with a guided tour.
The Pacaya Samiria begins about 183km (114mi) south of Iquitos, a trip that can be done entirely on the water, or more quickly (if less scenically) by driving along the 90km (56mi) Iquitos–Nauta Highway, to the Port of Nauta. Scores of different tours are on offer, following the Maranon, Ucayali, and other assorted waterways through the thick vegetation and canyons, such as the smaller Yanayacu River, recently opened to tourism.
The sweeping majesty of this oft-flooded rainforest is home pink and gray river dolphins, 13 primates, sloths, manatees, black caimans, tapirs, and more than 500 colorful bird species that have been officially recorded, including macaws, jacanas, parakeets, hawks, and several different kingfishers (themselves taking advantage of almost 300 species of fish).
There are also dozens of indigenous communities located in and around the reserve; most tours stop in at least one, allowing you to meet and greet the locals, and perhaps indulge yourself with some seed jewelry to take home. While many travelers make this a day trip, there are encampments and lodges where you can arrange to spend the night.