Basilica Cathedral of Arequipa
TIME : 2-22 13:45:54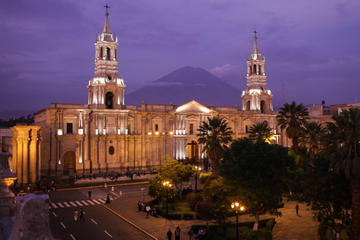 Basilica Cathedral of Arequipa
Towering over Arequipa's main plaza, Plaza de Armas, is the Basilica Cathedral of Arequipa. The history of this great cathedral dates back to 1544 when the first church was built on the square, and over the years, fire, earthquakes and volcanic activity have partially destroyed the structure. The latest disaster happened in 2001, when an earthquake completely toppled one tower.
Today, the fully restored basilica looks as good as new. Besides serving as the seat of the Archbishop, the neo-renaissance structure is also notable for being the only cathedral in Peru that stretches for the entire length of its plaza and is said to house the largest organ in South America, an import from Belgium. The Museum of the Cathedral, one of the most important of Arequipa's museums, displays a collection of liturgical objects, vestments and religious paintings that help paint a picture of the city's 400-year history.
Practical Info
The Museum of the Basilica Cathedral of Arequipa is closed on Sundays. Be sure to visit the cathedral bell tower for the views over Arequipa and the surrounding volcanoes.
You Might Also Like