Casa Urquiaga (Casa Calonge)
TIME : 2-22 13:45:58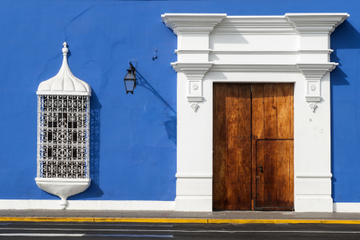 Casa Urquiaga (Casa Calonge)
Located along the famous Plaza de Armas, Casa Urquiaga (Casa Calonge) offers a rare glimpse into the political history of Trujillo. Here, in this sprawling mansion with three courtyards and numerous rooms festooned in chandeliers, visitors can get a sense of the everyday life of the Colonial political elite. Aside from the architecture and the strikingly blue exterior, what makes Casa Urquiaga such an intriguing visit is how much history is under one roof.
First constructed in 1604 (and reconstructed after the 1619 earthquake), there is a small collection of gold and ceramics from the Chimu and Moche empires. The interior is decorated with period furniture from the 17th and 18th centuries, the most notable of which is the desk of Simón Bolivar, the legendary leader who led much of Latin America to its independence from Spain. Today, the Casa Urquiaga is owned by the Central Reserve Bank of Peru, though the public is still allowed to view the cultural and historical relics.
Practical Info
Casa Urquiaga is open Monday-Friday, 9 a.m. to 3 p.m., and from 10 a.m. to 1 p.m. on weekends. There is no admission fee to visit the mansion, although all visitors must show a passport since it is officially a bank owned property.
You Might Also Like