Colonia del Sacramento
TIME : 2016/2/22 16:43:10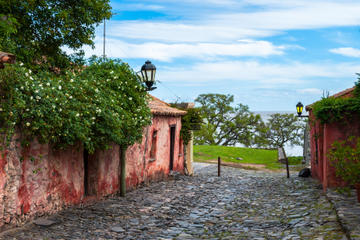 Colonia del Sacramento
The oldest town in Uruguay, this southwestern city on the Rio de la Plata – just a short ferry ride away from Buenos Aires in Argentina -- is famed for its historic quarter, where the jumbled, sprawling streets and mix of architecture represents two centuries' worth of Spanish, Portuguese and Uruguayan history.  
Its strategic location made it a source of longtime struggle between the Portuguese and Spanish, who both sought to control trade of Peruvian silver and Brazilian produce; between 1680 and 1828, Colonia was conquered multiple times by each country's naval forces. The Portuguese ultimately won control of the town, but it would be only six years before the outbreak of the Brazilian-Argentine Cisplatine War, when battles fought within the historic quarter resulted in widespread damage to the city's defenses and finest buildings.
By the time reconstruction efforts began, the Uruguayan base of power had shifted to its capital, Montevideo. Historic preservation efforts in Colonia began in earnest in 1924 and continued for the next several decades, and today, a steady stream of ferry-bound tourists from Buenos Aires come to see its well-tended Portuguese basilica, Spanish-Uruguyan history museum and bullring, 17th-century convent ruins and more.