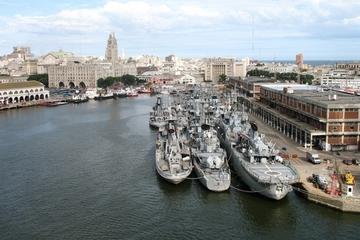 Montevideo Cruise Port
Often overlooked by visitors to South America, the Uruguayan capital is an interesting mix of old and new. It may not have the glitz of Buenos Aires or Rio de Janeiro, but Montevideo offers a variety of plazas, beaches, historical monuments and shopping opportunities.
How to Get to Montevideo
The cruise ship port, Puerto de Montevideo, is located on the southern edge of the city, about a mile from the center of Montevideo. Taking a taxi is the best way to get to the center if your ship doesn't offer a shuttle (many do). There are also leather stores for passengers that offer complimentary shuttles to their shops.
One Day in Montevideo
If you arrive on a weekend, start at the Mercado de Puerto, a street fair within walking distance of the port where you can sample a variety of traditional Uruguayan dishes. It is also open in the afternoon, so you might stop by as you return to your ship after a day of exploring.
Otherwise, kick off your visit in Plaza Independencia, Montevideo's busy, modern square in the center of the city. The plaza stands on the site of an old citadel; keep an eye out for a stone that marks the division between the old and new parts of Montevideo. Also note the monument of Jose Gervasio Artigas, who led the battle for Uruguay's independence from Spain, and the Palacio Salvo, which was once the tallest building in South America. From Plaza Independencia, check out the shops and cafes along Avenida 18 de Julio before stopping at the Museo del Gaucho y del la Moneda to peruse exhibits of cowboy clothing, artifacts and historical currency.
Next up is the Old City of Montevideo, also known as the "Ciudad Viejo." Start your exploration at the Plaza Constitucion, where you can find a flea market on the weekends. Visit El Cabildo, the old town hall and former jailhouse that now serves as a museum showcasing historic maps, photos and artwork. Don't miss Sarandi Street, a pedestrian mall with an array of outdoor sculptures.
If you'd like to get out of the city, think about joining an excursion to a local winery to learn about Uruguayan wine production and sample a few varieties. Or, head to an "estancia" to enjoy Uruguayan folk dancing and singing, participate in typical farm chores and sample a traditional Uruguayan meal.
Port Information
The official language in Uruguay is Spanish, but those who work in the tourism industry are likely to understand English. The currency is the Uruguayan peso, although US dollars may be accepted. ATM's are ready available. You can find an internet café right at the port, as well as throughout the city.