Top 3 vintage flying experiences in Britain
TIME : 2016/2/26 11:19:32
Britain has always had a proud aviation heritage brimming with heroic war stories but when it comes to great British aviation, there are three landmark vintage airplanes that are still the pride of Britains skies. Weve picked out our favourite luxury flying experiences to give you a taste of the thrill and the history behind these classic aircrafts. These are our ultimate British flight experiences that are not to be missed for any aerial adventurer.
The Tiger Moth, Dorset
Step back in time to 1930s Britain and feel the wind whip past in your open cockpit as you take the wheel of a beautiful vintage Tiger Moth with The Museum Inn in Dorset. In this traditional British inn, you can immerse yourself in the beauty of the Dorset countryside, enjoy a sumptuous three-course dinner of award-winning cuisine and bed down in one of their handsome cottage rooms. The next morning youll be whisked off to the renowned Compton Abbas Airfield, one of Englands most beautiful airfields, where your aerial adventure includes sweeping over miles of waving green and the stunning fossil-flecked cliffs found along the World Heritage Jurassic Coast. You may even recognise this Tiger Moth from the upcoming Hollywood blockbuster The Monuments Men, and can enjoy sitting in the same cockpit as George Clooney and Matt Damon did in the film. Our top pick for a classic vintage experience.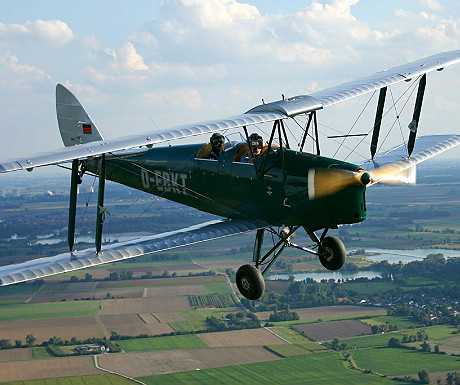 The Spitfire, West Sussex
For the more advanced aviator searching for a truly quintessential British flying experience, the Spitfire is likely the most iconic and world renowned of all British flying machines. At the luxurious Goodwood Aerodrome, you can learn to tame the skies in a Spitfire with the Boultbee Flight Academy. Hear the roar of the Rolls Royce Merlin engine and trace the training footsteps of many RAF pilots with their Spitfire flying course, a truly breath-taking experience. If youre in need of a place to rest your head after an adrenaline fuelled day, Goodwood have an on-site hotel or head to The White Horse in nearby Chilgrove, where roaring log fires, hot tubs and rare wines offer the perfect way to unwind.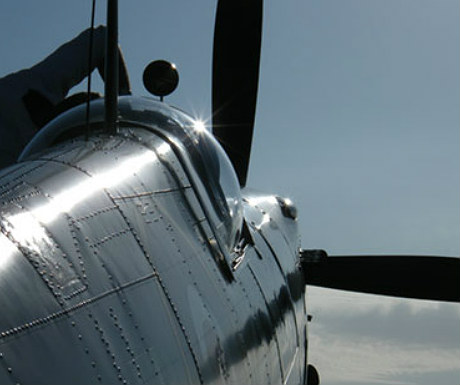 The Hurricane, Kent
If youre looking for adventure among the clouds, next to its Spitfire contemporary the Hurricane was one of the top British combat bombers and it played a major role in the Battle of Britain during the Second World War. The flight company Fly with a Hurricane offer an incredible range of experiences, but the true history lover should go for their Platinum flying experience. With this package, you can enjoy a true slice of aviation history from one of Britains most experienced Spitfire pilots, Charlie Brown, together with lux touches such as a champagne reception. Spend the day soaring over the majestic Kent coastline taking in Dover Castle and the famed White Cliffs of Dover. If youre hungry for more history, the package also includes entry to the Battle of Britain Museum in Hawkinge.