Easygoing Australia has an abundance of choice when it comes to beaches where nudism is legal and accepted. Most of the destinations on this list are nestled away, and home to communities of friendly, like-minded naturists who welcome newcomers. At some you may be the only person there – just you, the sun, the sand, the surf...and not a stitch of clothing to separate you from your surroundings.
Why go nude
Stripping down at a beach gives you that fresh, out-of-the-shower feeling. It also delivers a boost to self-esteem, letting you see first-hand that most people don't have supermodel bodies. There is also a strong community of naturists to join, whose openness and friendliness come from the fact they have nothing to hide – not even tan lines. Many naturists say the reason for nude beach-going is simple – they just feel more like themselves without clothes getting in the way.
The rules
If you've never been to a nudist beach before, common sense and respect is all you need to try it out. Remember that you have full control of when you want to disrobe and when you want to leave. Observe some basic rules and there's nothing to fear - don't litter, take photos, get sexual, wander outside of designated nude areas, or come just to stare; do bring sunscreen and shade, take your time, and spread out your towel before sitting on a chair when you're not wearing clothes.
The law
The legality of individual beaches depends on the state and local council. Queensland is the only Australian state without a legal nude beach. But stick to the recognised clothing-optional beaches listed here and you're unlikely to experience problems with the law. You'll find that the general attitude of Australians is live and let live, even if you're in your birthday suit.
Maslin Beach – Adelaide, South Australia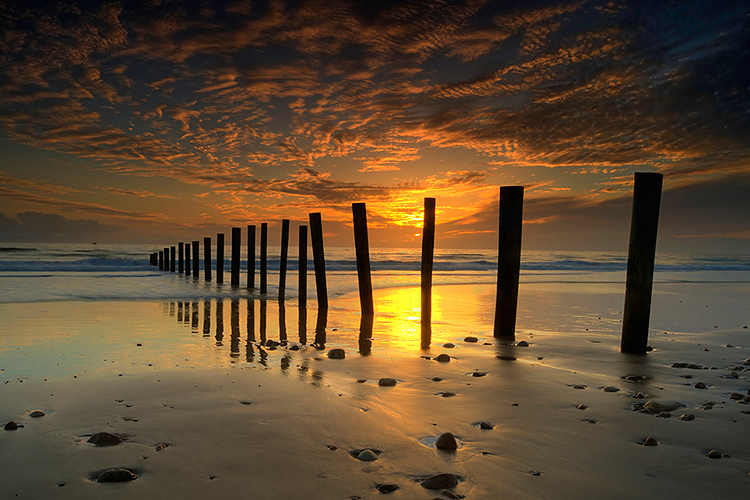 Who has the best bum? Find out at Maslin Beach, home to what was once called the Nude Olympics. The competition's naked three-legged races have been held here since 1983. Alas, the name had to be changed this year because the Australian branch of the IOC (International Olympics Committee) wasn't amused, nor did they smile upon the revised Maslin Beach Nudo Lympics (nice try). Its official title is now the Pilwarren Maslin Beach Nude Games (www.pilwarren.com). The best bum competition is still called the best bum competition, though.
Lady Jane Beach in Sydney may be Australia's oldest nudist beach, but Maslin Beach was the first to achieve legal status in 1975. The 1.5km southern end of the beach permits full nudity. The craggy white cliff towering above the squeaky sand occasionally attracts sightseers, but this is rare and the shielded cove feels far away from the clothed north end. Expect clean sand, blue water and golden sun on your bare skin.
Getting there and more info 
The beauty of Maslin Beach is that it's only 45km south of Adelaide and accessible by public transport. From the city take a train to Noarlunga Centre. Then take a Maslin Beach bus from the bus depot. Drivers can park at the cliff-top car park from Tuit Road and walk down the stairs. Being an urban beach, there is a kiosk for food and drink, and a 4WD that passes along the beach in summer selling refreshments.
Sunnyside North Beach – Melbourne/Mornington Peninsula, Victoria
First-timers, this is the place for you. Sunnyside Beach has a friendly social atmosphere with a mixed crowd of families, couples and people who come here alone to feel anonymous in their nudity amongst the crowd. The blue water rarely gets rough and the beach is secluded from the clothed side.
Getting there and more info
This beach is just north of Frankston and has legal nudity status. Drivers should take the Nepean Highway to 2.5km north of Mount Eliza and park at (the clothed) Sunnyside Beach, then walk from the car park through the bush to Sunnyside North Beach. There are no shops nearby, so pack water and food or stock up in Mount Eliza. The yellow sand can be strewn with pebbles so bring good walking shoes.
Lady Bay Beach – Sydney, New South Wales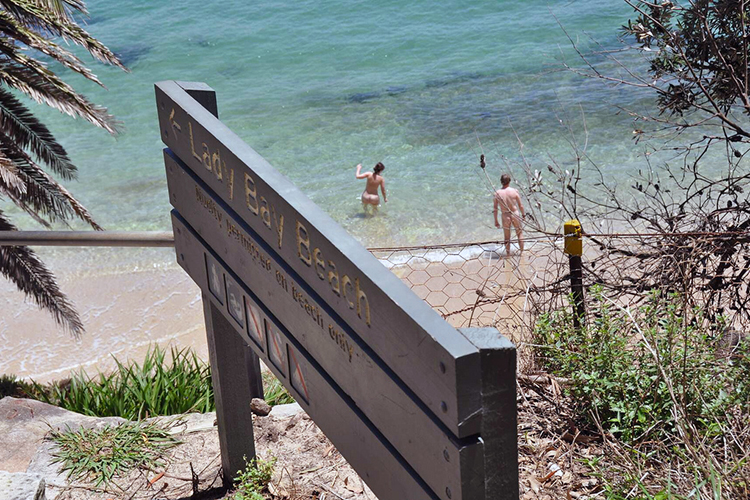 This is Australia's oldest nudist beach. When you take off your clothes at Lady Bay Beach, you are taking part in history. Australians dared to bare all here for years before nudity was legalised in 1976. And it's not just for ladies, as the name might suggest: gay men in particular have been splashing about at Lady Bay for decades, since long before laws and attitudes became more open beyond this sandy cove.
You can easily see how coming here in another era would have been a relief. You could shrug off the social mores of Sydney, sheltered by Lady Bay's two rocky natural piers, and feel free to behave as you pleased with the city's jagged skyline far in the distance. In easygoing, modern-day Sydney, gay and international visitors share the blue waters with straight couples and their children without a care in the world. Though there is a cheeky lookout far above the beach.
Getting there and more info
Even if you just want to dip your toes into the water, getting to Lady Bay (or Lady Jane Beach as it's also known) is a scenic adventure. From Circular Quay, catch a 15-minute ferry to Watson's Bay, enjoying some classic harbour views along the way. You'll cruise by the Sydney Opera House and wealthy harbour-side suburbs. From Watson's Bay wharf, turn left and walk towards the heads (the entrance to Sydney Harbour). The first beach is family-friendly Camp Cove. Continue north up some stairs and along the path to the top of Lady Bay Beach. If you're driving, park in Cliff Street. If you are ferry-phobic, take the much longer ride on bus 324, 325 or 380 from Circular Quay. Bus 380 runs via Bondi beach.
The beach is only about 100m long, with calm waters and no surf. High tide sees the golden strip of sand shrink even further, making things crowded and a perfect time to taste the seafood at the world-famous Doyle's restaurant back at the wharf.
Cow Bay – Queensland
This bay two hours north of Cairns is a tangle of nature. The wide stretch of beach is scattered with an obstacle course of rocks at high tide. A showcase of Australia's wild landscape surrounds you, complete with stinging jellyfish and lurking crocodiles, which keep away casual voyeurs, but seem to attract visitors from Europe. Mangrove trees tower out over the beach where the untamed Daintree Rainforest meets the soft pale sand and calm waters of the South Pacific. The tropical trees will also shade you, and the branches make natural swings to monkey around on.
Getting there and more info
Nearby stores offer camping and caravan supplies. Cow Bay makes a great spot for a nude picnic or being at one with nature, but the crocodiles mean swimming is not recommended.
Alexandria Bay – Noosa, Queensland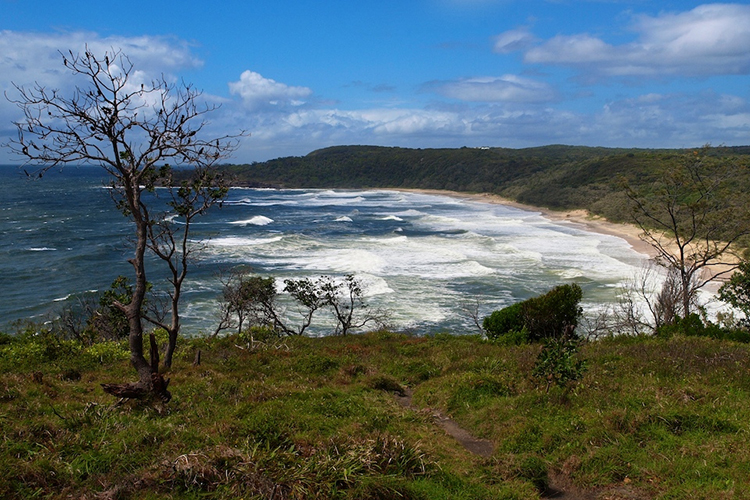 You can feel like the first human to see this beach. Perhaps the hike through the Noosa National Park keeps the pristine strip of yellow sand a secret from most tourists. Or perhaps the way the sparkling waves batter the shore makes it feel unusually savage and ancient. But whatever it is, getting naked at Alexandria Bay (A-bay to locals) feels like an experience shared only between you, nature and like-minded bare bathers (who tend to be middle-aged and older). The waters are choppy and the beach is unpatrolled, so you might want to hitch your kit to a eucalypt and frolic in the sand rather than the surf. Pack some sharp shorts to wear for eating your gelato back at trendy Hastings Street in Noosa.
Getting there and more info
Keep clothed from Noosa Main Beach and meander 3km along the tracks through the National Park to the very end. The path winds high up as it follows the coastline, giving spectacular views of the ocean and, if it's your lucky day, whales, dolphins and eagles. There is no mobile phone reception at Alexandria Bay, but emergency phones are available on both ends of the beach. Though there are no legal nude beaches in Queensland, Alexandria Bay has generally been accepted as a nude beach with very few problems for decades. There were however isolated arrests at the end of 2014 by overzealous police, so keep your eyes open.
North Swanbourne Beach – Perth, Western Australia
The dividing line between the clothed and clothing optional parts of this beach has become blurred. The mixed crowd has seen its fair share of controversy with unsuspecting clothed bathers stumbling upon nude ones on the bright white sands. Taking off all your clothes on this beach has grey legal status and nobody is sure if it's strictly legal.
But that hasn't stopped naturists from bathing here since before the Second World War (before the invention of the bikini). In 2008 the council erected a sign that labels the 3km stretch of sand as a 'Clothing Optional Beach', and you're unlikely to get into hassle for stripping off, despite the State Government of Western Australia technically tut-tutting it. Just make sure you don't strip down till after the yellow garbage bins.
Getting there and more info
You'll be hard pressed to find a tree for shade, so bring a hat, umbrella and lots of sunscreen to shield those sensitive parts. North Swanbourne Beach is a 20-min drive from Perth city centre. Drivers should take Stirling Highway towards Fremantle and park behind the surf lifesaving clubhouse. You can take bus 102 from Perth city centre on Wellington Street towards Cottlesoe via North Street. The nearest train station is Grant Street, about 2km away from the beach.
For more information about nude beaches visit Free Beaches Australia (www.freebeach.com.au).