This year, Costa Rica's wet season took a turn for the dry, and it seemed like the whole country headed for the beach. The extra rays shone brightest on the northern Pacific coast, where emerging seaside destinations include a former pirate haven, a 1200-acre car-free (but modern!) beach community, and a surf and yoga mecca where hitchhiking still thrives. More secretive shores also offer dramatic sunsets, surf-perfect waves and a slice of old Costa Rica.
With a recent expansion of the Daniel Oduber International Airport in Liberia, the Pacific coast's sultry treasures have become even more accessible. Direct flights now touch down from Houston, Atlanta, Miami, Dallas, Newark, Toronto, Charlotte, Chicago, Denver, New York, El Salvador and Panama. So grab that sunhat and make for the playa.
Bahía de los Piratas/Playa Real
Just south of Playa Conchal, Bahía del los Piratas is perhaps Costa Rica's best-kept secret, but it won't be for long. More and more visitors are bumping down back roads to bask on the 2km stretch of pink sand and admire the rocky outcrops and islands where pirates once hid. For now, just a few homes and hotels pepper the mountains and tropical dry forest surrounding this virgin paradise, where the calm surf is ideal for swimming and relaxing in the sun.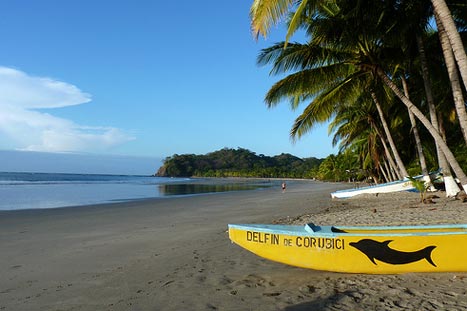 Playas Samará/Carrillo
One of the more laid-back beaches on the Pacific coast, Samará exudes bohemian charm and has plenty of frisky nightlife. By day, Costa Rican artists peddle their wares by the shores of this breezy, 7km bay with its slender palms and dazzling coral (an attraction for snorkellers and stand-up paddle enthusiasts alike). Five miles south lies the palm-lined fishing village of Playa Carrillo, another much-admired shore.
Santa Teresa/Playa Carmen/Malpaís
On the southern tip of the Nicoya peninsula, these small, freewheeling beach towns are accessible only by a dirt road that locals occasionally douse in molasses (to keep the dust down). Accommodation and restaurants for all budgets can be found in this isolated destination, where the surf features world-class breaks year-round. On Saturdays, hula-hoopers, hippie families and wizened musicians all gather at the playa for the farmers' market and a massive orange sunset.
Playa San Juanillo
Just north of the Nosara beaches, the small fishing village of San Juanillo remains an undiscovered slice of old Costa Rica. Coconut palms and wild almond trees dot the bay's fine white sand, and the surf is kept tranquil by an elaborate coral reef (bring that snorkel). A hilly little peninsula splits the beach in two, and gives visitors the perfect opportunity to climb up and witness a mind-blowing sunset.
Playa Rajada
Up in Bolaños Bay near the Nicaraguan border, this is the best sunset beach in Guanacaste. There isn't much around – one of the closest places to stay is the Ecoplaya Resort in La Cruz, five miles away – but with soft white sand, curious rock formations and an abundance of marine life, Rajada is well worth the trek.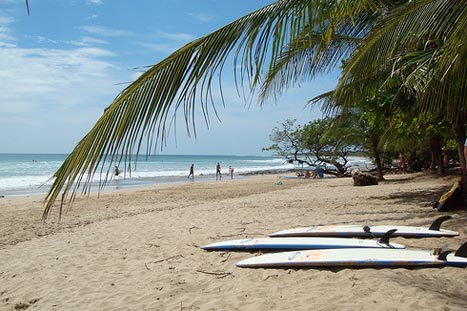 Playa Avellanas
Ask around about the most beautiful beach in Guanacaste, and those in the know – particularly surfers – will say Avellanas. Just an 18km drive south of Tamarindo, this remote scenic stretch of white sand and mangrove trees draws experienced wave riders with its year-round right and left breaks. There's also a beloved beach bar called Lola's, named after an enormous, eccentric pig who prefers the ocean to a mud bath.
Nosara
A collection of four amazing beaches – Playas Guiones, Ostional, Nosara and Pelada – on the Nicoya peninsula provide a haven for surfers, yoga enthusiasts and anybody looking for a reboot of the soul. An affable, throwback kind of place, Nosara lacks public transport but encourages visitors to hop in with strangers to travel the dirt roads between the beaches. Ostional regularly welcomes hundreds of thousands of turtles ashore to lay their eggs.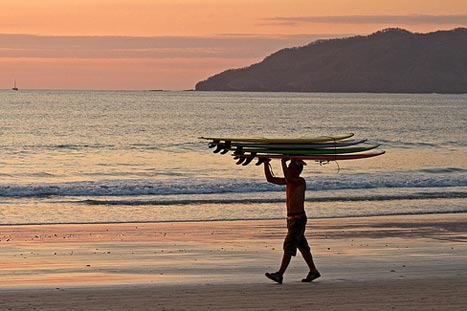 Playas Tamarindo/Langosta
Lately, a bunch of surf legends have set up shop here in Costa Rica's most developed beach town, including Endless Summer hero Robert August. The party scene continues to attract thirsty backpackers, while the seafood restaurants are among some of the best in the country. Just a 15-minute saunter south is the tranquil Playa Langosta, where families can relax and take advantage of the Olympic-sized tide pools for snorkelling.
Secret Beach (aka Playa Cuevas)
A short drive south of Malpaís, past a fishing village, a cemetery and the local elementary school, lucky visitors occasionally stumble on this hidden cove. Long known to locals as 'Secret Beach', Playa Cuevas features rocky cliffs and caves, twisting almond trees and lots of space and privacy to stretch out on the white sand with a friend or a good book. Secret Beach also features the best snorkelling in the area, along with super-charged orange sunsets.
Playa Danta/Playa Dantita
An Atlanta developer recently unveiled Las Catalinas – a modern, car-free beach community – on 1200 acres in Playa Danta. With inns, shops, and oodles of nature, but no motorised vehicles, this modern community is an experiment worth checking out. Although Las Catalinas has recently run into some issues with the Costa Rican government, it's still one of the newest and most interesting beach developments in the country.