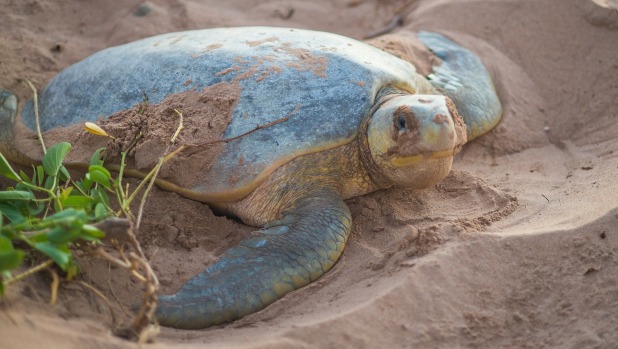 I'm closer than I was at the birth of my two daughters.  Splayed on the sand, commando-style, I observe from behind as the huge flatback turtle prepares her nest. 
In the foothills of Bare Sand Island's dunes, she shuffles and digs, shuffles and digs, spraying grit over the watching group.
I wipe sand from my face and grin at Shannon Lee, our young indigenous guide, who spotted this flat-back from 200 metres away.
As the sun sinks into the Timor Sea, we have the uninhabited island, four and half hours' cruise north-west of Darwin, to ourselves, save for the odd labouring reptile and a few terns and oyster catchers.  Used as a firing range by the RAAF during the 1950s, spent bullet cases still litter the sandy hillocks. Behind us, slight foamy waves wash the un-footprinted beach and a maze of shells glimmers in the fading sun.  In the channel beyond, Sail Darwin's Sundancer catamaran jinks on its anchor.
After  20 minutes, our turtle abruptly downs tools.  She's not happy with this spot," whispers Shannon.
Sure enough the pregnant turtle swivels off the hole and begins lumbering further into the dunes, her audience trailing her wordlessly on all fours.
Five metres on, she starts digging again, working all four flippers to hollow out a cylindrical cavity in the beach.  
Watching her I feel both a self-conscious intrusion and connection with this rare flatback, named for its unusually un-rounded shell and listed as vulnerable in Australian waters. 
"She's looking for warm, wet sand that's the right temperature for her eggs," Shannon tells us. 
For her size she's a dexterous creature, reaching down as far as her rigid carapace will allow, flattening her torso then twisting it to scoop deeper into the sand with her rear flippers.
By now her chasm is nearly the depth and shape of a toilet bowl and she pauses for respite.
"She's ready," assures Shannon, shimmying up the slope, "we can get closer now, she won't know we're here." 
Arms and legs collide as we gather behind the nest.   Shannon illuminates the hole with a torch.
When the eggs start coming, they arrive at a rate of about one every minute.  They are slightly larger than ping-pong balls and equally spherical.   
After a while, Shannon reaches deftly into the pile of eggs to show us one.
In my palm it feels soft and fibrous, a little wet.  
I wonder at its contents' chances of survival.  Statistics suggest that if one of the 50 embryos makes it to adulthood this will have been a successful pregnancy.  
Dehydration, seabirds, sharks and above all, man, with his plastic bags, boat propellers and indiscriminate fishing nets, await the hatchlings that emerge from the nest.
Observing their mother from the front, we can see she is in a laying trance, the process punctuated by big, sigh-like, hurrumphs. I lay my hand on her shell, an equally ineffectual token of support to the back rubs I gave my partner during long labours with our kids.   
By the time I return to my position behind her, the sun has long since dropped into the Timor Sea and above her the moon is rising, white and nearly full.
Then she is finished, her eggs clustered unevenly beneath her like big white gobstoppers in a lolly jar.  
Exhausted, she shovels sand back onto them, creating what scant protection she can for her offspring.   Finally content, with a small mound the evidence of her night's work, she begins shuffling back to sea.
As do we, returning to The Sundancer for drinks and canapés, and hoping for the survival of the fittest, on this deserted island not far from a place named Darwin.