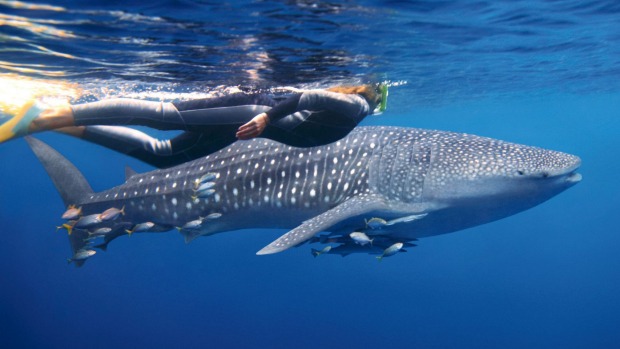 Australia offers myriad opportunities to get up close and personal with the oceans' most weird, powerful and mammoth animals, writes Daniel Scott.
Australia may be a broad, sunburnt land but the oceans surrounding the continent offer some of the planet's best opportunities to encounter marine creatures. 
Among the key factors in any close-up meeting with sea animals are the reliability of their appearance in a particular location, good water clarity and switched-on tour operators that are equipped to give visitors a memorable experience. 
Australia not only has all these elements but we are fortunate that, until now, our coastal ecosystems have remained healthy enough to continue attracting a variety of cetaceans and fish.  Among those making regular appearances in our waters are whale sharks off Ningaloo Reef in Northern WA, between April and July, and humpback whales in Queensland's Hervey Bay, from May to October.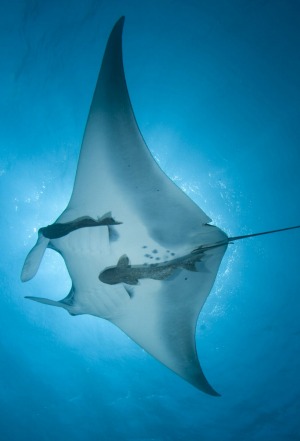 Over the past twenty years, I have been snorkelling and diving off the Australian coast, seeking out encounters with the oceans' most weird, powerful and mammoth animals.  From Rowley Shoals in the far north west to Seal Rocks on the east coast to the cold waters off Victoria's Shipwreck coast to the shallow seas off Esperance in the far south-west, I've had unforgettable and sometimes totally unexpected experiences with everything from sea snakes to big, toothy sharks. 
These are my top ten encounters with marine creatures around Australia. 
1.    Cage-diving with Great White Sharks off the Neptune Islands, South Australia.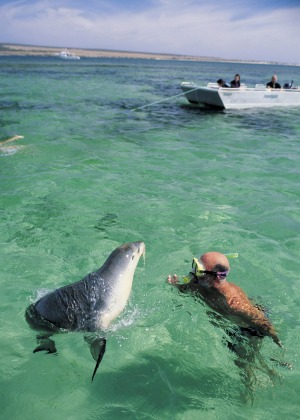 In the weeks before my first cage-dive with Great Whites, on an eight-day expedition with Rodney Fox, famous for being attacked by one while spearfishing in 1963, and his marine biologist son Andrew, I had nightmares about being cut in two by a five-metre long torpedo. They nearly prevented me getting into the cage at all.  
Once I'd hurdled my own imagination, however, this proved to be the most awe-inducing of all my marine encounters.  Seeing the sharks with a man whose life was nearly ended by one, his wounds requiring 462 stitches, and who was subsequently pivotal in getting White Pointers protected off Australia, was in itself inspiring.  But being in the water, as two 4.5-metre sharks buffeted the metal cage in which I stood, was the most adrenaline-flooded fifteen minutes of my life. I emerged with nothing but admiration for this key-stone predator's power and have since returned to the Neptune Islands, to revisit the increasingly healthy population of Great Whites. The Foxes continue to run cage-diving expeditions, from Port Lincoln, with two-night trips from $1395.  Rodneyfox.com.au
2.    Snorkelling with whale sharks off Ningaloo Reef, Western Australia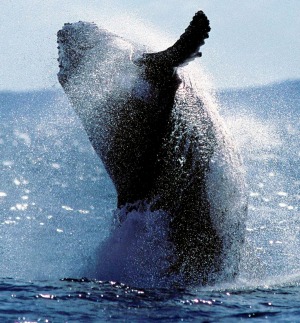 The moment you see your first whale shark, swimming toward you in the open sea off Ningaloo Reef, is heart-joltingly dramatic.  Very few people will have ever been in the water with anything bigger, and since you've been dropped into its path by the whale shark boat, it may well be heading straight for you, open-mouthed with Hollywood starlet lips formed into a giant "O" as it hoovers the water for plankton.  
My first whale shark was only 4.5m, but the adolescent male was sprinting like an underwater Makybe Diva, leaving me spluttering in its wake.  Later, we caught up with an eight-metre female that played more nicely, sauntering along slowly enough for me to observe its constellation-like pattern of markings.  Ningaloo's whale shark season runs from April to July and Exmouth-based tour operators, offer day-trips to swim with them, using spotter planes to ensure success. King's Ningaloo Reef day tours cost $385 Adults, $270 Children.  kingsningalooreeftours.com.au. 
 3.    Swimming with humpback whales in Hervey Bay, Queensland
 Still in its infancy and controversial as Hervey Bay is a resting place for mothers and calves on their migration south, only one operator has permission from National Parks to offer the swim with humpbacks experience.  It is available for an additional $75 on whale watching trips aboard Quick Cat II, and relies on a combination of curious humpbacks circling the boat and suitable sea conditions.  
"Safety is my prime concern," says Quick Cat skipper Brian Perry, a pioneer of whale watching in Hervey Bay, "and since this is also a whale watching tour, I have to make sure passengers who aren't swimming are happy too."  If conditions are right, swimmers follow a guide into the sea wearing a mask and snorkel and attached to a rope running off the back of the boat, and then hope the humpbacks approach.  
Unfortunately in spite of two attempts in September, including one trip in which the sea conditions were clear and calm and the whales were right beside the boat, I failed to even get into the water.  But it is hard to be disappointed when you get within touching distance of huge humpbacks as they pass right under the boat.  Quick Cat II whale watching tours run daily from Hervey Bay and Kingfisher Bay resort, Fraser Island, between August and late October, from $110 adults and $70 kids, whale swim $75 extra. kingfisherbay.com/tours-and-cruises/fraser-island-cruises/whale-watching.html
4.    Swimming with dwarf minke whales off the Great Barrier Reef, Queensland
 Possible only during a narrow window in June and July and with one operator, Eye to Eye Marine Encounters, on four-six day expeditions, swimming with dwarf minke whales is nonetheless one of the most enchanting experiences available in Australian waters. The trips also allow for time to explore the northern Great Barrier Reef, off Cooktown and Lizard Island, and the chance to dive and snorkel the least spoilt parts of the reef like the Cod Hole, with its giant gropers and potato cod.  But it is inquisitive dwarf whales that are the stars, gathering in groups of up to 15 around swimmers holding onto a "Minke Line" at the back of the boat.  Eye to Eye has four Dwarf Minke Whales trips in June/July 2015 from $2950. marineencounters.com.au   
5.    Swimming with sea lions at Baird Bay, Eyre Peninsula, South Australia
 It's hard to beat the sheer joy of swimming with a sea lion, the ocean's cutest mix of a puppy and a kitten, and tour operator Alan Payne has been offering visitors the chance to do this in Baird Bay since 1992.  
Any encounter with endangered Australian sea lions, numbers of which are below 15,000, is a privilege and when you are in the water with a dark-eyed, whiskery snouted juvenile performing aquatic acrobatics, it's hard not to giggle into your snorkel. The tour includes a swim with bottlenose dolphins and plenty of time in the shallow protected waters inside Jones Island playing with the sea lions. Baird Bay Ocean Eco tours cost $150 Adults, $75 for children under 15.  bairdbay.com
6.    Diving with manta rays off Stradbroke Island, Queensland
 For me there is no more graceful sight on earth than that of a manta ray gliding through the ocean and diving off Stradbroke Island is like being in the midst of a manta ballet.  Manta bommie, a ten minute boat ride from Straddie, is used as a cleaning station by the rays during their November to March migration. So, with several mantas hovering in clear 10-15m deep water as small fish rid them of parasites, divers and snorkelers are gifted close-up vision of the giants.  Kneeling in the shadow of a manta, looking up at its 3.5m wingspan is an indelible memory, although currents do make it tricky.  Double dives start at $131 with manta Lodge, and snorkelling from $35.  mantalodge.com.au
7.    Diving with grey nurse sharks at Seal Rocks, New South Wales
 Grey nurse sharks, fierce-looking with a gob-full of gnarly, twisted teeth, but harmless, are another of Australia's reliable marine creatures, aggregating at a few locations along our Eastern shores, including Seal Rocks, near Forster on the NSW Mid-North coast . In one underwater gutter running beside the submerged boulders, it is not uncommon to see 50 or more 60 Grey Nurse sharks.  Although currents are a factor, this is a safe shark encounter with a sizeable wow factor.  Action Divers has double boat dives at Seal Rocks for $120 ($180 with gear hire).  Actiondivers.com.au 
8.    Diving with leafy seadragons, off Kangaroo Island, South Australia
 Appearing like something out of Medieval legend, yet as tiny and fragile as tissue wafting in the swell, the leafy sea dragon is a touching sight.  My encounter with one, underneath Kingscote wharf off Kangaroo Island, remains etched in my memory, in spite of murky waters and the sea dragon's leafy camouflage making it hard to find among the seaweed. If I'd had unlimited air I could have watched it hovering and flirtatiously fluttering its eyes all day. Single guided dives from $140 with kangarooislanddiveandadventures.com.au
9.    Swimming with bottlenose dolphins in Nelson Bay, NSW
 With all the other possibilities around our shores it is easy to underestimate the excitement of swimming with wild dolphins.  But I'll always remember my first swim with bottlenose, in Nelson Bay, for the sense of fun in the animals themselves.  Zipping through the ocean, riding waves and emitting loud squeaks and clicks underwater, I felt like I was part of their pod at playtime. Dolphin Swim Australia run tours, between September and May, in Port Stephens Marine Park, from $289.   dolphinswimaustralia.com.au
10. Swimming with bluefin tuna off Port Lincoln, South Australia
 Swimming with 60-odd tuna inside a 14 metre-deep showpen anchored in Boston Bay, off Port Lincoln, may not sound that intriguing, but the tour has become one of South Australia's must-do experiences.  If swimming among juvenile bluefin tuna reaching speeds of 70kmh isn't a big enough thrill, you can hand feed them pilchards, trusting that the 30-kilo fish don't clatter into you.  Adults $90, Kids under 16, $60.  swimwiththetuna.com.au