Layovers can be a hassle, or they can be a slice of heaven. If you have the opportunity to visit one of these airport lounges, you may keep your fingers crossed for flight delays. Lounges have gone way beyond free cocktails and Wifi. Now, you can savor your trip by indulging in spa treatments, taking a nap, or enjoying a gourmet meal.
Singapore Airlines SilverKris Lounge, Singapore Changi International Airport
Known as one of the top airport lounges in the world, the SilverKris Lounge at Changi airport is huge and accommodating. Fish tanks, orchids, low lighting and great food help make this lounge a soothing oasis. Take a hot shower, get a massage at the spa, or take a nap in your own slumberette.
British Airways Concorde Room, London Heathrow Airport
Decadent Swarovski crystal chandeliers illuminate the gold leaf "Gold Bar" at the elegant British Airways Concorde Room in Heathrow. Fireplaces, gourmet dining, and luxurious furniture create a relaxing pre-flight retreat. You can enjoy a complimentary massage at Elenis Travel Spa, or chill out in your own private room that features a TV, chaise lounge, desk, and shower. For fun, sit in a chair pulled from a Concorde jet made into seating for the Boardroom.
Air France La Premiere Lounge, Charles de Gaulle Airport, Paris
Have a massage, enjoy a fine French meal with wines from France's premiere wineries, take a shower, lounge in a chaise, and then be escorted via Mercedes to your plane.
Swiss Lounge EuroAirport Basel Mulhouse, Freiburg
Relax in a leather recliner surrounded by palm trees under a giant glass dome while you enjoy the views. Hot and cold buffets and a bar offer plenty of sustenance in a bright uplifting atmosphere.
Star Alliance Lounge, Los Angeles, Tom Bradley International Terminal
Enjoy cocktails by the outdoor terrace fireplace and take in panoramic views of the Hollywood Hills while you wait for your international flight at the LAX Star Alliance lounge. Amenities include a library, shower suites, food and beverages, and iPads upon request.
Qantas First Lounge, Sydney
Luxe Italian marble, Swiss quartzite, glass, stainless steel and modern furniture juxtaposed against vertical foliage make a dramatic yet soothing atmosphere for pre-flight relaxation. Qantas First lounge in Sydney boasts complimentary spa treatments, concierge service, shower suites, gourmet dining, private business suites, and spectacular views of Sydney and Botany Bay.
Virgin Atlantic JFK Clubhouse, JFK International Airport, New York
Mood lighting, a brassiere dining area, and a spa with hair salon are all part of Virgin's unique Clubhouse experience. Fun, vibrant furniture, like a ruby-red ball sofa and bubble chairs make this lounge seem a little futuristic, and is simultaneously soothing and invigorating.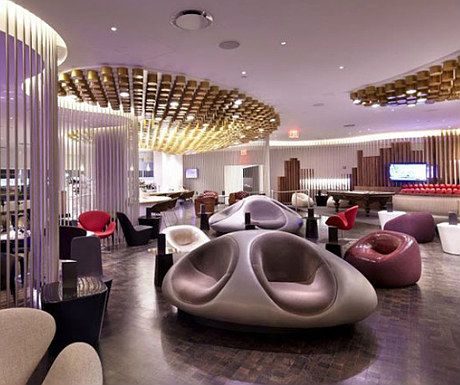 Finnair Lounge, Helsinki Airport, Finland
Finnair Lounge is known for its fabulous midnight buffet, perfect for those on their way to Asia. Marimekko tableware and Nordic design fill surroundings with a relaxing modern aesthetic.
Etihad's Diamond First Class Lounge, Abu Dhabi International Airport, United Arab Emirates
Drop the kids off with their own personal nanny and head for the spa. You can relax and get a massage while the children enjoy the colorful playroom.
Lufthansa First Class Lounge, Frankfurt
Located in its own terminal, Lufthansa's First Class Lounge offers concierge service, fine dining, showers and bathtubs (sometimes with Lufthansa's coveted rubber duckies). After an over-the-top lounge experience, you will be driven to your plane in a Porche or Mercedes. Very James Bond.