Travel for even a week in Vietnam and you'll soon realise how few of its gastronomic specialities are well known outside the country. Every region lays claim to unique edible delights. Culinary classics such as northern
pho
, Hue imperial banquet fare, and southern sizzling pancakes are just a tasty sample of what's on offer.
In the north of Vietnam, the cuisine is closely aligned with China. Fewer spices are used than in southern and central Vietnam, but black pepper is very important. Here cooks use a superior grade of pepper that is mild but intensely aromatic, with a uniquely Vietnamese sweetness. Equally vital are pungent herbs including basil, mint, coriander and spring onions.
In the temperate centre of the country and the tropical south, more fruits and vegetables are available, and many different spices are utilised in local kitchens. Southerners also use more sugar, even in savoury dishes, and dining is very much a hands-on experience. Many meals incorporate a mountainous plate of fresh herbs, which are wrapped with cooked meat and seafood in a crisp lettuce leaf, and then dipped in flavour-packed sauces.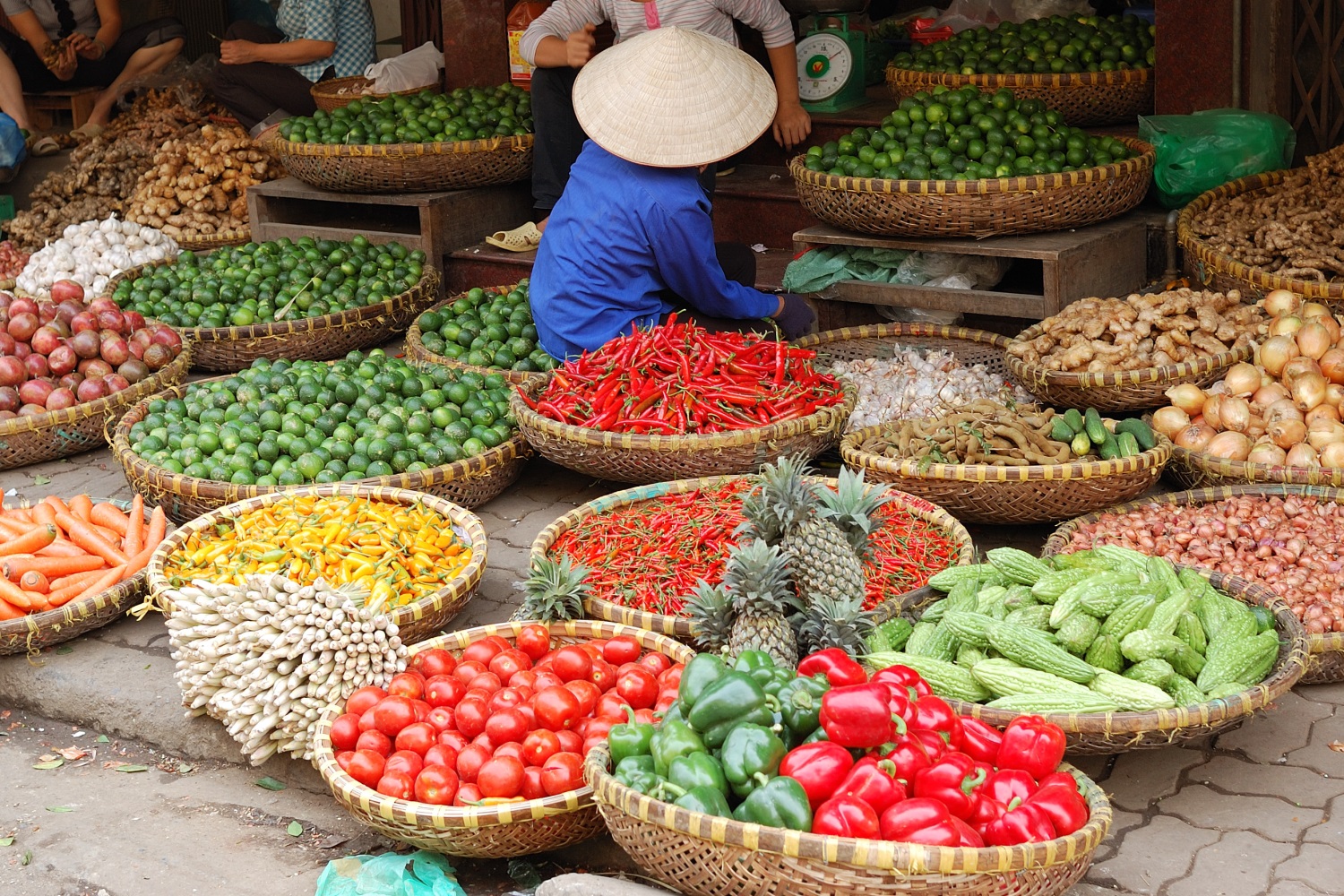 Dishes of northern Vietnam
Pho
Pronounced like 'fur' (but drop the 'r'), pho is known simply as beef noodle soup by the locals. But a fragrant serving of pho is really Vietnam in a bowl. This world-renowned dish is available across the country, but it almost has cult status in Hanoi. A range of garnishes is always on hand to customise the dish to the diner's personal taste. Lime juice, bean sprouts, or a dash of chilli or fish sauce can all be added, and in the south of Vietnam a tangle of fresh herbs is available for extra flavour and texture. The traditional beef variety is called pho bo, while chicken noodle soup is dubbed pho ga. In Hanoi, seek out the smoky decades-old Pho Tin for a tasty bowlful.
Bánh cuon
Mi quang
Thick and chewy turmeric-yellow noodles are topped with shrimp, pork, bean sprouts, herbs and chopped peanuts, and moistened with just a dash of rich broth to make mi quang. Named for its native province of Quang Nam in central Vietnam, the dish comes with rice crackers for crumbling and is finished in characteristically central Vietnamese style: with a dab of sweet-hot chilli jam. Excellent mi quang can be had on street-food tours with Funtastic Tours in the vibrant city of Danang.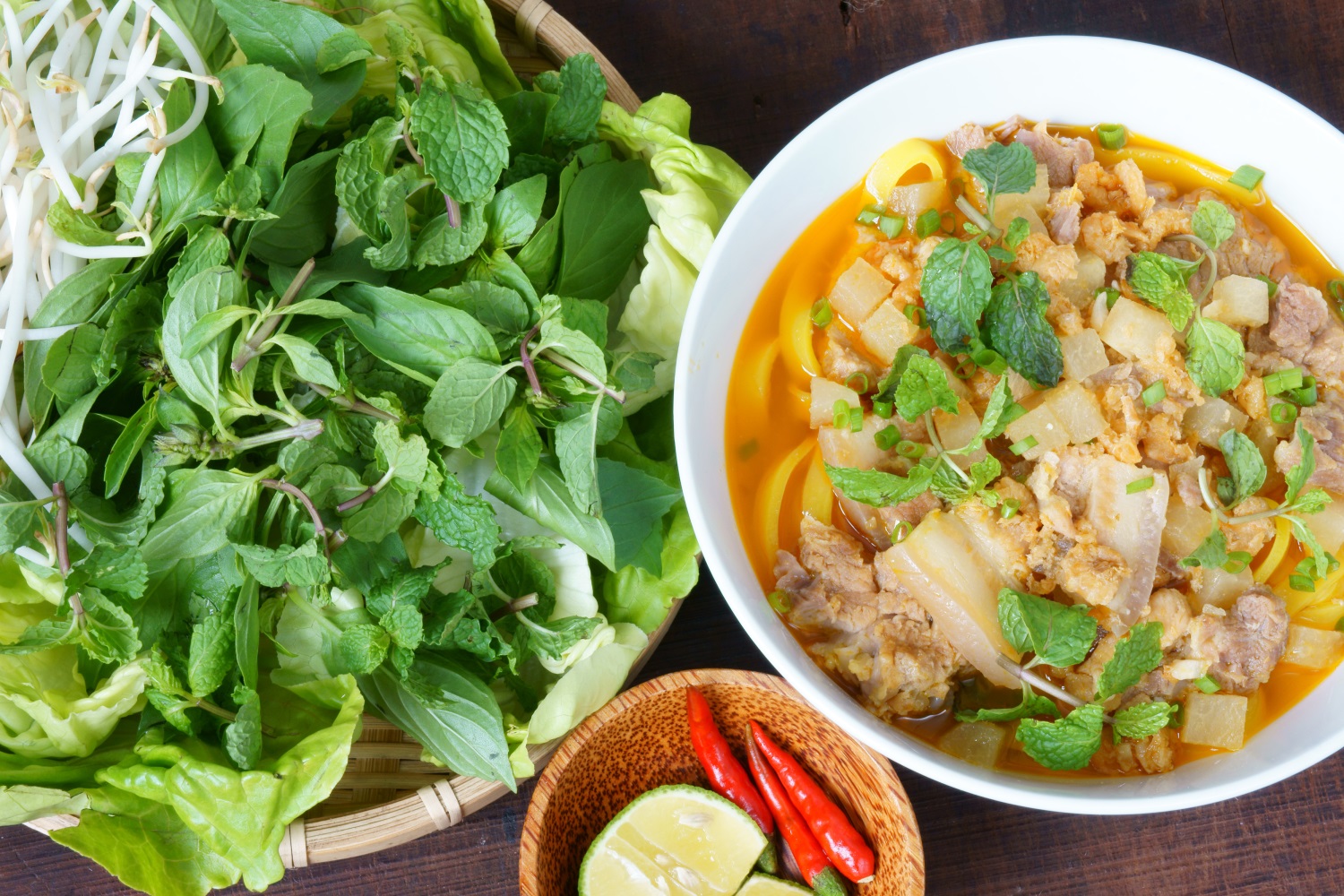 Com hen
For com hen, rice comes with a rich broth and tiny clams harvested from Hue's Perfume River. Garnishes include rice crackers, pork crackling, peanuts, sesame seeds, fresh herbs and vegetables. Served riverside at the simple 17 Ð Han Mac Tu location in Hue, a bowl of com hen achieves the culinary feat of being simultaneously hearty and delicate of flavour. Bun hen is an equally tasty variation using rice noodles.
Cao lau
The legacy of centuries of international trade is evident in cao lau, the signature noodle dish of the central Vietnamese town of Hoi An. Thick soba-like Japanese-style noodles are seasoned with herbs, salad greens and bean sprouts, and served with slices of roast pork. Try this very local dish on a street-food walking tour with Eat Hoi An.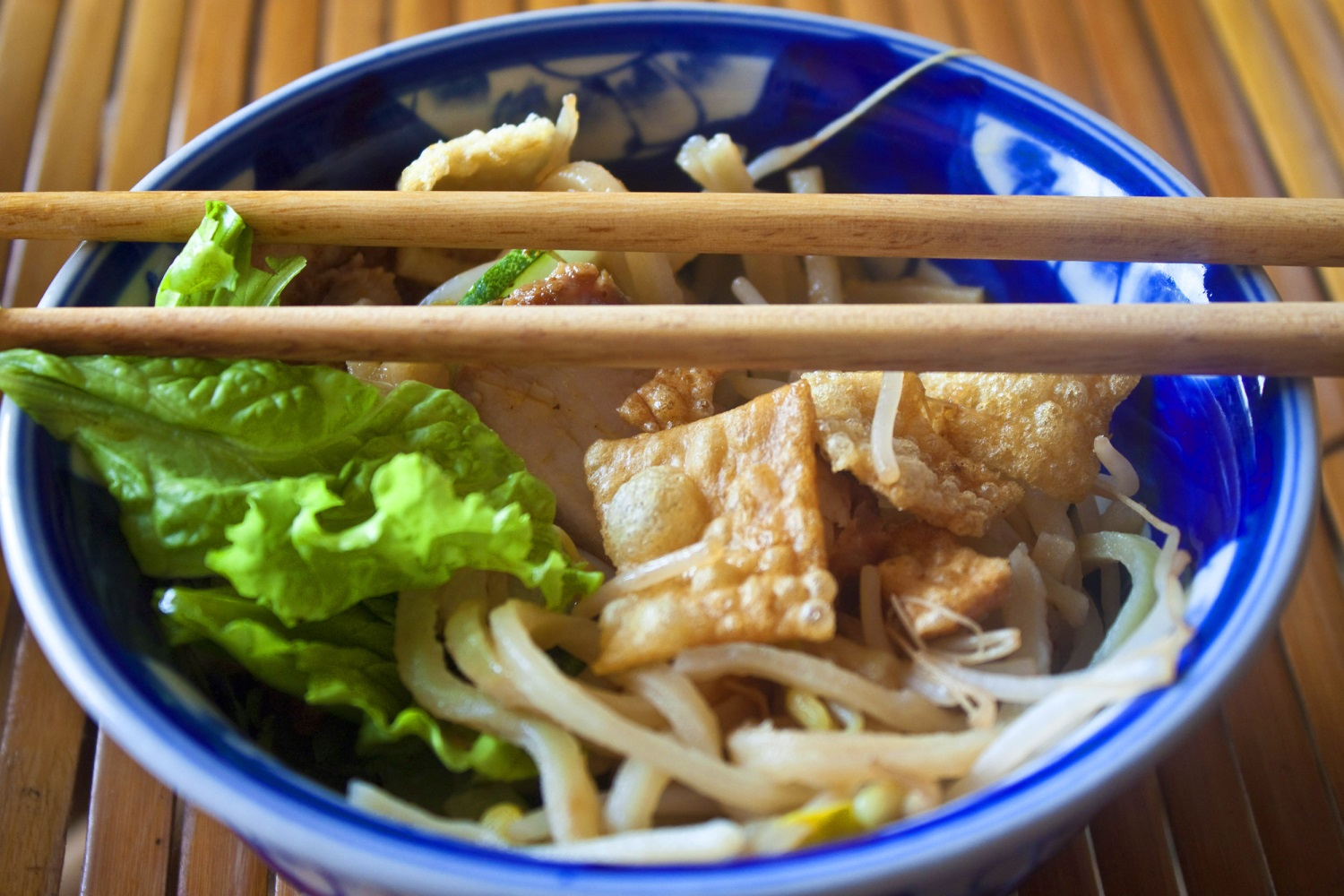 Dishes of southern Vietnam
Bánh xèo