In many cases, the best restaurants in Rome are so concerned with their food, that they lack atmosphere. Since the entire city of Rome can be a stage for romance, it is important to find restaurants that not only serve great food, but also maintain and enhance the romantic mood of the city. Here are a few of my favourite unique places that not only serve great food, but inspire all the senses.
1. Ristorante Museo Canova Tadolini
This cafe and restaurant is full of 19th Century Neoclassical grace. Located in a neighborhood full of artistic bottegas from the most illustrious periods of Italian art history, the cafe was once an atelier to four generations of Italian sculptors. It is a fascinating mess of elegant antique furniture, 200 year old sculpting tools and an array of preparatory moulds for some of the worlds most famous art works. The tables are tucked around Antonio Canova and his pupil's anatomical studies and plaster casts, bringing alive the great period of classical revival.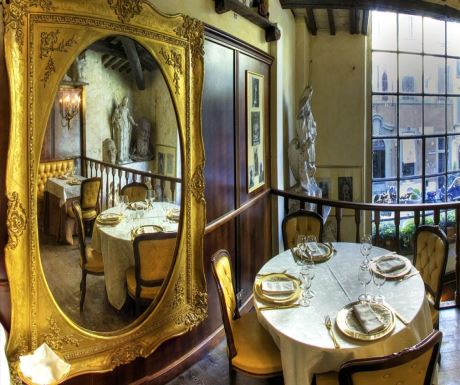 2. Ristorante Bar Bistro Gli Ulivi
This farm to table restaurant located in a ritzy suburb just outside the ancient city walls, is the perfect place for a romantic dinner date. Decorated with dim lighting, grey velvet couches and baroque furnishings, the setting primes the perfect mood for the meal. The menu is small but diverse and changes often based on the availability of seasonal products. The dishes are refined and creative, made from ingredients cultivated on the family's relais in the countryside of Umbria.
3. The Library
The owner of this eclectic restaurant was inspired by Feng Shui principles. Therefore, the dining and drinking atmosphere elicits a rare and calming energy. Wax drips from the candles on the dining tables as time passes slowly within the ancient brick arches embedded in the walls.
4. Spirito di Vino
With an impressive wine cellar featuring more than 6,000 bottles of wine, this restaurant is a local treasure. The chef creates gourmet dishes from simple traditional Roman recipes and adheres to the Slow Food philosophy of cooking with only local, fresh and seasonal ingredients. The restaurant also claims to be hosted in the oldest building in the city.
5. Imago
Located on the 6th floor of the Hotel Hassler atop the Spanish Steps, this Michelin star restaurant has the best view in the city. The chef's exquisite dishes are carefully prepared and presented while the waiter introduces the historic monuments in full view. It is a true feast for the senses.
6. Said Antica Fabbrica del Cioccolato
Nothing says romance more than chocolate. This restaurant located in a 1920s chocolate factory serves unique dishes, all with a taste of their homemade chocolate. Vintage chocolate production machines and tools decorate the space, where you will most certainly be tempted to take home some (if not all) of the chocolate tarts, cakes, assortment boxes and gourmet candy bars, to keep the love alive long after dinner.