For your next trip how about combining luxury living, fine dining and spa therapies with some history and culture? If this sounds good to you then read on and consider checking into one of these 3 vegan friendly resorts in Vietnam near UNESCO World Heritage Sites.
Fly to Danang in Central Vietnam and check in to one of these beachfront resorts which are are all a short transfer away from the international airport; each offers their own unique experience to the discerning traveller and are within easy access of the UNESCO World Heritage Sites of My Son Sanctuary and Hoi An Ancient Town.
InterContinental Danang Sun Peninsula is the multi award winning luxury resort designed and created by world renowned architect Bill Bensley, Victoria Beach Resort is just a 10 minute drive from Hoi An and situated right on the beach, therefore offering the best of both worlds and Fusion Maia Resort Danang is a luxury spa lovers dream, offering all inclusive spa treatments and healthy, delicious food from its beachfront location.
What's more, each of these resorts can cater for vegan guests who want to experience luxury travel whilst at the same time maintaining their vegan lifestyle; a reassuring quality for anyone travelling with any kind of dietary requirement.
The UNESCO World Heritage Site of My Son Sanctuary
My Son Sanctuaryis a series of tower temples which were constructed between the 4th and 13th century and are situated at what was the centre of the ancient Champa Kingdom. They have suffered greatly over the years and much was destroyed during the Vietnam-American war in the 1960′s (bomb craters are still visible today) howeverwith help from UNESCO and many international archaeological teams, the tower temples are slowly being restored. They are beautifully located in the heard of the Vietnamese countryside and receive a relatively low number of tourists so provide and insightful and peaceful day of reflection for those that visit this historically significant site.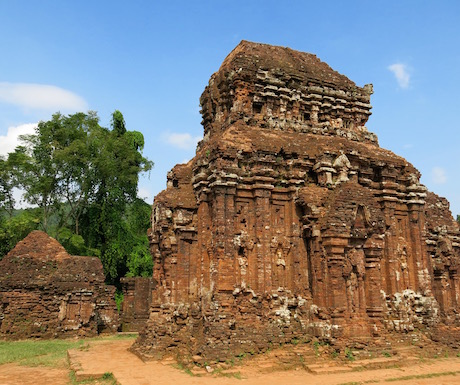 The UNESCO World Heritage Site of Hoi An AncientTown
Hoi An Ancient Townis a trading port that dates back as far as the 15th century and offers visitors the opportunity to step back in time as they wander the traffic free streets whilst exploring everything this charmingtown has to offer. Rent a bicycle and cycle around the picturesque ancient town, take a boat trip to nearby Cham Island,get measured for a new suit (which will be ready to collect the following day)at one of the legendary Hoi An tailors or simply watch local life pass by whilstenjoying a Vietnamese coffee in one of the many traditional coffee houses near the picturesque river.
InterContinental Danang Sun Peninsula Resort
InterContinental Danang Sun Peninsula Resortrecently won multiple awards at the World Travel Awards Asia 2015 including Asia's Leading Luxury Resort and Vietnam's Leading Resort. Located on the Son Tra Peninsular, surrounded by lush forest on one side and a pristine beach on the other this resort is like no other; a simply stunning location with innovative and quirky design features combine to deliver an adult playground where you can escape the world outside and immerse yourself in one of luxury, wellness and good living.
If you can bring yourself to leave, you are able to reach Hoi An in around 1 hour using the complimentary shuttle and My Son in 2 hours using a private transfer or as part of an organised tour.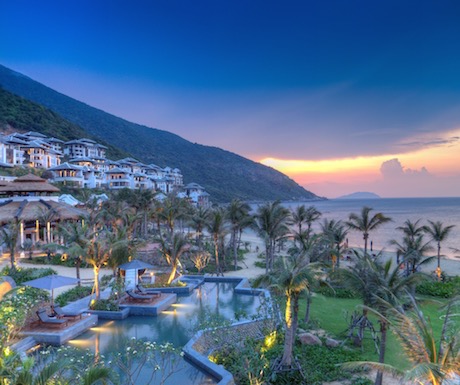 With multiple locations to eat and drink in the resort, including fine dining restaurant La Maison 1888 (home to French Michelin starred chef Pierre Gagnaire) youwon't be short of choices, even as a vegan. Enjoy a multi-course plant based tasting menu at La Maison 1888, exquisite vegan canapes in Club InterContinental, a selection of Vietnamese favourites at Citron or an al fresco lunch on the beach at Barefoot where the Jordanian chef can prepare (with advance notice) a middle Eastern feast packed full of flavour.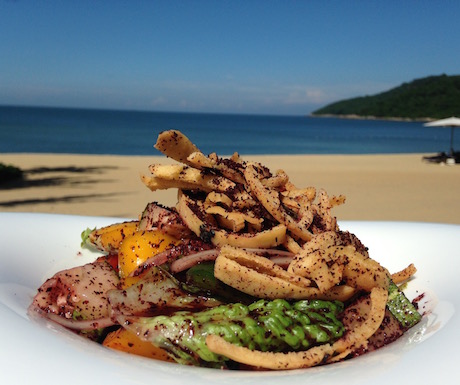 Victoria Beach Resort Hoi An
Victoria Beach Resort Hoi Anis the original beachfront resort in Hoi An and is perfectly situated on Cua Dai beach. Check in here and enjoy ocean facing rooms and suites, an oversized pool with stunning sea views and activities including daily spa treatments, complimentary tai chi lessons and the chance to explore the local countryside on a motorbike and sidecar.
Hoi An can be reached in just 10 minutes using the complimentary shuttle andaround 1 hour to reach My Son using a private transferor by joining an organised tour.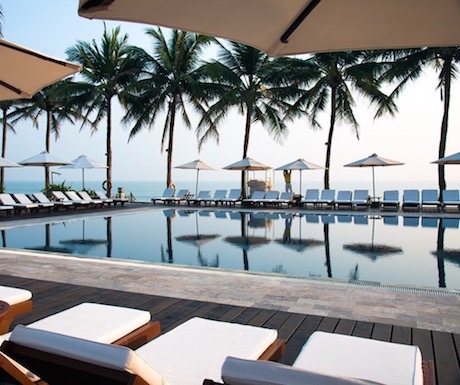 The food in the resort is a mixture of Western inspired dishes and traditional Vietnamese cuisine. Vegan guests will be well catered forand can expect flavour packed Vietnamese dishes that have been adapted for diners who wish to enjoy a healthy and plant based experience. At breakfast enjoytraditional bowls of pho (noodle soup), fresh tropical fruits and home baked breads then during dinner make a selection from the separate vegetarian menu to try dishes likecrispy friedtofu with steamed rice, bok choi and a trio of tasty sauces.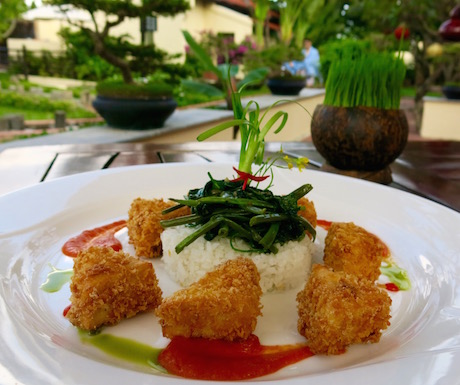 Fusion Maia Resort Danang
Fusion Maia Resort Danangis an ocean front oasis of calm offering guests accommodation in chic, minimalist designed villas, all inclusive spa treatments and dining from a selection of menus that combine taste, health and wellness. Expect villas with private pools, a personal'Fusionista' who makes sure your stay is a memorable one, and to leave feeling relaxed, revived and healthier than you've ever felt before!
To visit nearby Hoi An will only takearound 30 minutes using the complimentary shuttle, and expect a trip to My Son (using a private transferor as part of an organised tour) to takeunder 2 hours.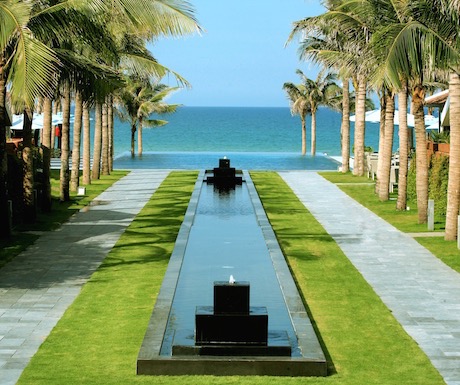 The dining is a key element at Fusion Maia with every effort used to introduce fresh and healthy 'super foods' within a varied menu selection that offers guests a huge choice of health giving yet indulgent tasting food. Dishes like a red quinoa risotto with white truffle, mushrooms and almond cream give guests a chance to experience plant-based cuisine at it's best. Enticing names like 'Veggy Beauty Bowl' lead you to vegetable and superfood rich delights and by combining ingredients like soba noodles and matcha powder with local mangoes and sesame oil they manageto create dishes that taste divine. Vegans and vegetarians will be spoilt for choice and left wishing all food tasted this good.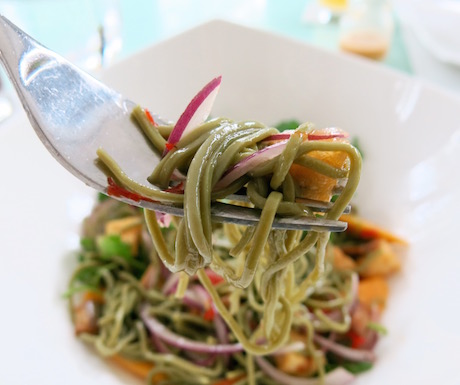 So that's 3 vegan friendly resorts in Vietnamnear UNESCO World Heritage Sites to chose from; as travelling vegans who also enjoy exploring this sounds like the perfect combination for a luxury trip to remember…