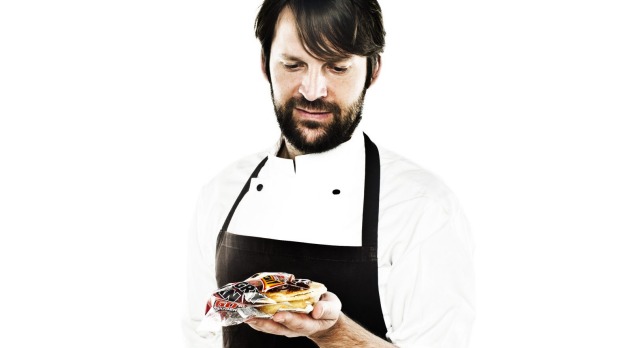 When revered Danish chef René Redzepi announced that he was closing his celebrated Copenhagen restaurant, Noma, to relocate to Sydney's Barangaroo for a 10-week residency next year, the kitchenpot telegraph went crazy.
The prospect of Redzepi bringing his "Nordic mad" cooking to our food-obsessed shores (our chefs are no slouches, either) has many people salivating. Redzepi and his chefs have made six research trips to Australia over ten months, resourcing regional produce, and have promised to incorporate some of our more curious produce, such as green ants, into Noma's highly imaginative menus. (I find eating insects appealing - perhaps you do not.)
A week ago, reservations for Noma's Sydney residency opened, the equivalent of trying to get Rolling Stones tickets when they're in town. They sold out in ninety seconds. Prepaid reservations were $485 per person, not including drinks, about $150 more than it would cost to dine in Copenhagen.
Many would consider this fair and I don't necessarily disagree. (Heston Blumenthal's Fat Duck pop-up theatre in Melbourne was $525 a head.) The entire Noma team has had to be relocated to the other side of the world. It's a significant event, not just for foodies. And tickets to the Stones cost more.
The concept of Redzepi combining his Nordic creativity with indigenous produce is intriguing. Undoubtedly, a reservation for a table from January 26 to April 2 has serious bragging rights for those quick enough to nab a place.
But I do sometimes have cause to wonder at the modern deification of the chef and the fetishization of the plate. If you don't drink the foodie Kool Aid, is it possible that some of these experiences leave you less than overwhelmed?
Noma has been named Restaurant magazine's Best Restaurant four years running and is adorned with two prestigious Michelin stars. Expectations must be high when a diner enters the hallowed halls of a restaurant as lauded as this. Does this enhance or disrupt the enjoyment of the food on the plate? Does just the teensiest disappointment become magnified when the stakes are so high?
The Michelin tyre company began printing annual guides to regional restaurants in 1900 for the few travellers who had motor vehicles. In 1926 the guide established the star system - three stars for exceptional, two for excellent, one for very good.
The guide expanded into rating restaurants in other territories (there are now more starred restaurants in Japan than France) and the anonymous, overworked Michelin inspector became the stuff of popular culture. (The new movie Burnt, starring Bradley Cooper, is about a chef attempting to impress the inspectors and gain three stars.)
The stars, which Michelin claim to be a 'recognition', not an award, have traditionally been considered make-or-break for business and for certain chef's egos.
But things are changing. Many modern chefs find the stars a 'curse', as Skye Gyngell, now head chef at Spring in London, complained in 2011 when she 'returned' her one star for Petersham Nurseries Cafe, citing raised expectations among diners, who approach the restaurant critically, rather than for pleasure.
Michelin is also not the only game in town. Restaurant magazine's World's Best 50 Restaurants awards, San Pellegrino's World's 50 Best Restaurants (Noma is currently No. 3) and dozens of regional awards are perhaps truer guides to what's interesting and innovative in food. Michelin's emphasis on 'perfection' is not necessarily what the modern diner wants. And our Australian chefs don't get a look in.
I want to be delighted when I eat at a restaurant, to have dishes put in front of me that I'm incapable of cooking myself (and I'm not bad at it) and ones I could never imagine. I admire technique but I don't worship it. I recall one heavily starred restaurant in Paris where the breast of chicken was indeed perfect but the atmosphere was like dining in a tomb.
I think our food and food sources are vitally important and what is being done with foraged and biodynamic produce fascinating. But when I sit down at a table (hopefully a comfortable one) I want to enjoy the meal sensually more than intellectually. I don't want to feel like I have to be a critic.
If you've managed to snag a Noma reservation, I suggest you leave your expectations at the door, forget everything you've heard, have an open mind, travel with all your senses.
Just like any kind of travel, really.

See also: Which airlines have the best food?