Napoleon famously referred to England as a nation of shopkeepers. Two hundred years later, London remains one of the best places in the world to go shopping. Big-name emporiums such as Selfridges, Harvey Nichols, Hamleys, Fortnum & Mason and Liberty are both sightseeing attractions in their own right and temples for shopping devotees, while side-street boutiques and lively markets abound.
We've listed some of the most popular places to shop below, and you can also browse our recommendations and check out every Lonely Planet-reviewed shop in London.
Clerkenwell, Shoreditch & Spitalfields
This is London's trendiest shopping area. It's home to Sunday's fabulous Spitalfields Market, where young, cutting-edge designers display their creations, while Brick Lane, Dray Walk, Redchurch and Cheshire Streets are full of quirky shops, vintage dens and cool homeware. At Boxpark, a series of shipping containers have been turned into a hip mini mall. Come here to search out small boutiques for something unique.
Covent Garden
Visit, but don't shop at the touristy old market hall. Instead branch out into the little side streets for a whole lot of cool fashion, and hit Long Acre and Neal St for less hectic high-street chains. Sniff out Neal's Yard Dairy  for more than 70 varieties of cheese or head to Poste Mistress (twitter.com/PosteMistress) for fabulous footwear.
Oxford Street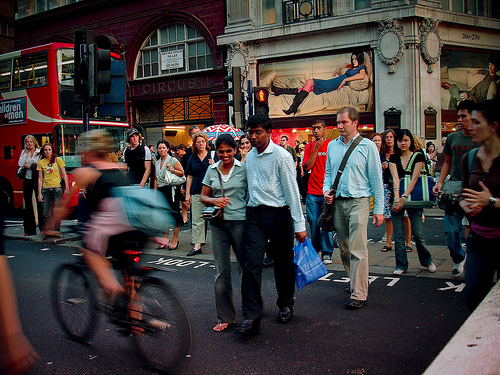 Oxford St. Image by Nicholas Hutchinson / CC BY 2.0
Offering an ocean of consumers, a sprinkling of souvenir shops and dawdling traffic, Oxford St can feel simultaneously overwhelming (thanks to its crowds) and underwhelming (regarding its offerings). But if you're looking for a bustling shopping street and the headquarters of the chain stores, this is the place to come: alongside massive H&Ms, Zaras, Urban Outfitters and Top Shops are large department stores such as John Lewis, Debenhams and Selfridges.
Camden Market
Buzzy Camden Market is packed with stalls and is enormously popular – visit during the week if you want a quieter vibe. The goods themselves can vary in quality, but there's plenty of classic alternative gear here.
High Street Kensington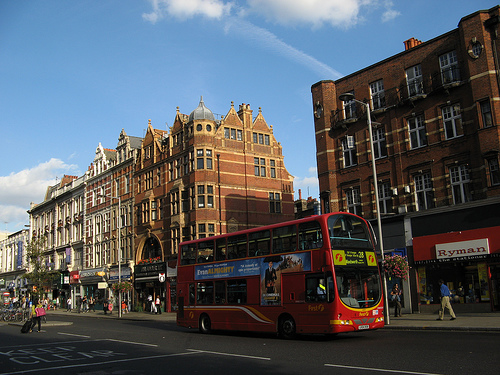 The less crowded, more salubrious alternative to Oxford St, this has all the high-street chains, plus trendy stores such as Miss Sixty (No 42) and Urban Outfitters (No 36–38). Snap up antiques along Church St.
King's Road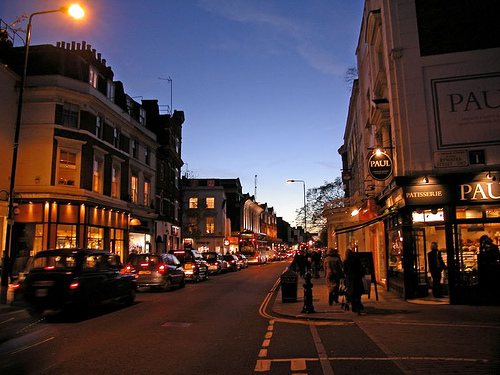 A far cry from its 1960s alternative heyday, well-heeled King's Rd is now strong on household goods, with the Designer's Guild (No 267–277), Habitat (No 208) and Heal's (No 234). Children are well catered for at Trotters (No 34).
Knightsbridge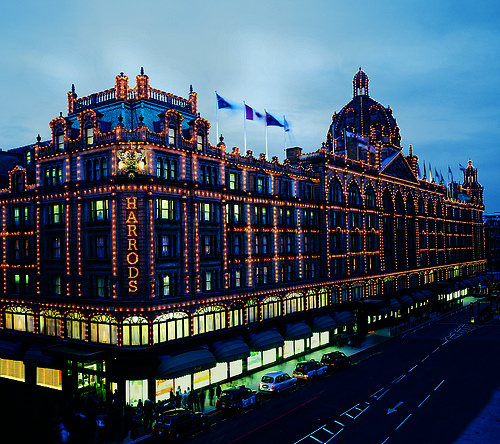 Harrods is a national institution, so go and witness the exuberant food halls and dramatic 'Egyptian Elevator' at least once. Harvey Nichols is within easy reach, and there are many nearby stores for cashed-up fashionistas.
Marylebone High Street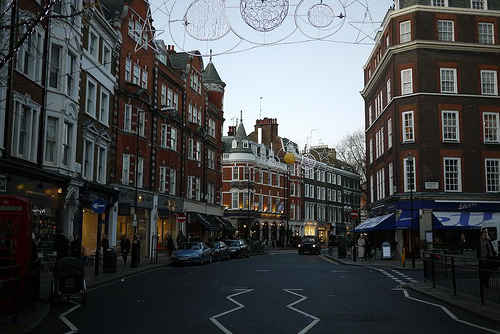 You'll feel like you're in a small town of its own along this quaint and elegant street, where homeware stores such as Cath Kidston are plenty. Food is another speciality, with one of London's best butchers, Ginger Pig, at 8–10 Moxon St.
The markets
London's markets are among its most appealing features. Foodie Borough Market is an established attraction, but younger alternatives like Broadway Market and Maltby Street Market are also worth a look. Columbia Rd blooms with flowers early on Sundays – indeed, the early hours offer plenty of options.