Spanning an incredible 35 acres of shopping, with more than 8000 stalls tucked into dozens of tiny narrow sois (lanes) that pull some 200,000 shoppers, browsers and buskers, Bangkok's Chatuchak Weekend Market is one of the world's largest.
Whether you're looking for a customised motorcycle helmet, a pair of six-inch crushed velvet stilettos, a pampered puppy, a fake Fendi, a set of Beatles cushion covers or a shark's-tooth amulet, you'll find it at Chatuchak. But it can still be an overwhelming experience, so with this in mind, here are a few tips to make the most of your visit to Chatuchak.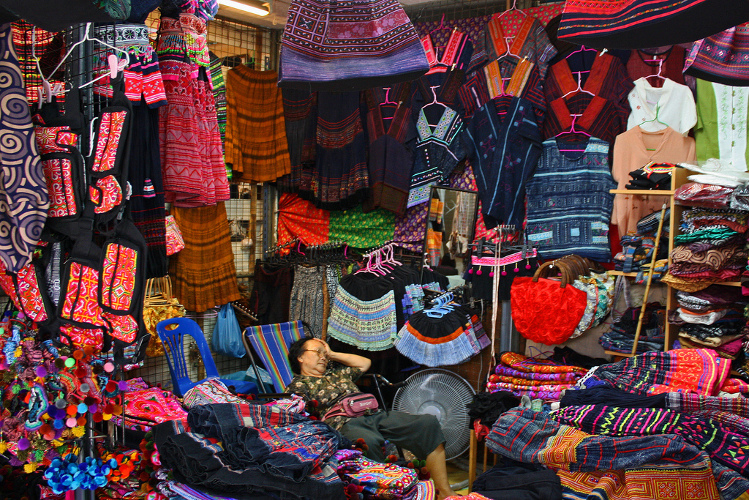 Get there early
Aim to arrive at the market as early as possible (approximately 10am), as the crowds are markedly thinner and the temperatures slightly lower.
If you know what you want, know where you're going
Though wandering is half the fun, serious shoppers will want to make sure they hit their targets. Thankfully, Chatuchak Weekend Market is divided into 27 relatively thematic sections. Clothing dominates much of the market, starting in Section 8 and continuing south through the even-numbered sections to Section 24. The western edge of the market, particularly Sections 8 to 26, specialises in all manner of housewares, from cheap plastic buckets to expensive brass woks. Section 1 is the place to go for dusty Buddha statues, old Lonely Planets, used books and other random antiques, while Section 7 is a virtual open-air contemporary art gallery. If you're seeking a rhinestone collar for your poodle or Pomeranian, check Sections 8 or 9 (where you'll also find baby chipmunks, tropical fish and songbirds galore). Green-fingered visitors, meanwhile, might be keen to stroll through Sections 2 to 4, where tropical plants run riot.
If you love it, buy it
Should you find something you absolutely can't live without, don't make the mistake of deciding you will pop back for it later. Many a sorrowing weekend market shopper has found, to their peril, that upon attempting to retrace their steps through the labyrinthine lanes, that perfect little floral dress or hand-made candelabra has apparently vanished into the heady market air, never to be seen again. And, though landmarks such as the central market clock tower may help you orientate yourself somewhat, chances are a map of your exact wanderings after a day out at Chatuchak would resemble most closely a plate of pat tai noodles.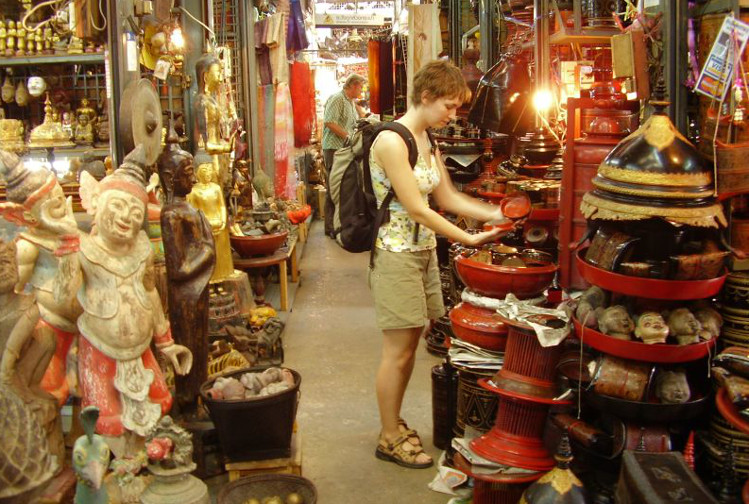 Learn to love bargaining
Many of your purchases at Chatuchak Weekend Market will involve an ancient skill that has largely been abandoned in the West: bargaining. Contrary to what you may have seen elsewhere, bargaining is not a terse exchange of numbers and animosity. Rather, bargaining Thai style is a generally friendly transaction where two people try to agree on a price that is fair to both of them.
The first rule to bargaining is to have a general idea of the price. Ask around at a few vendors to get a rough notion. When you're ready to buy, it's generally a good strategy to start at 50% of the asking price. If you're buying several of an item, you have much more leverage to request a lower price. If the seller immediately agrees to your first price, you're probably paying too much, but it's bad form to bargain further at this point. Keeping a friendly, flexible demeanour throughout the transaction will almost always work in your favour.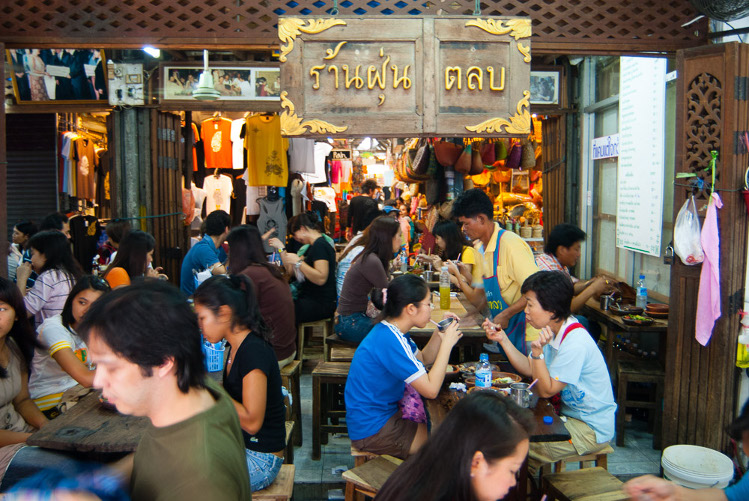 Sniff out the best food
Fittingly, once all that commerce has worked up a decent appetite, visitors to Chatuchak are faced with an equally bewildering selection of dining and drinking options. Numerous food stalls, generally selling snacks and drinks, set up shop just north of Section 19, while the majority of sit-down style restaurants can be found at the periphery of just about every section. Standouts among the latter include Foontalop, a northeastern Thai-style restaurant, Café Ice , a good place for pat tai (Thai-style fried noodles), or Viva 8, which features a bar, a DJ and a chef making huge platters of paella.
Alternatively, cross Th Kamphaeng Phet to Or Tor Kor Market, Bangkok's highest-quality fresh market, which in addition to heaps of vendors selling fruit and prepared food, has an open-air food court.
How to get there: Chatuchak Weekend Market is located north of central Bangkok, but is a snap to reach via public transport. To get there, take the BTS (skytrain) to Mo Chit and take exit 1 or 3, or the MRT (metro) to Chatuchak Park taking exit 1, or Kamphaeng Phet and 1 or 2.