Marrakesh has been a trading town since the 11th century and it can still satisfy the most ardent shopaholic. Its warren of souks are the quintessential Moroccan shopping experience, but there's more: in-the-know buyers also make a beeline for the design district of Sidi Ghamen or upscale Gueliz for contemporary crafts, one-of-a-kind fashions and that quirky lamp that would look just amazing in the dining room...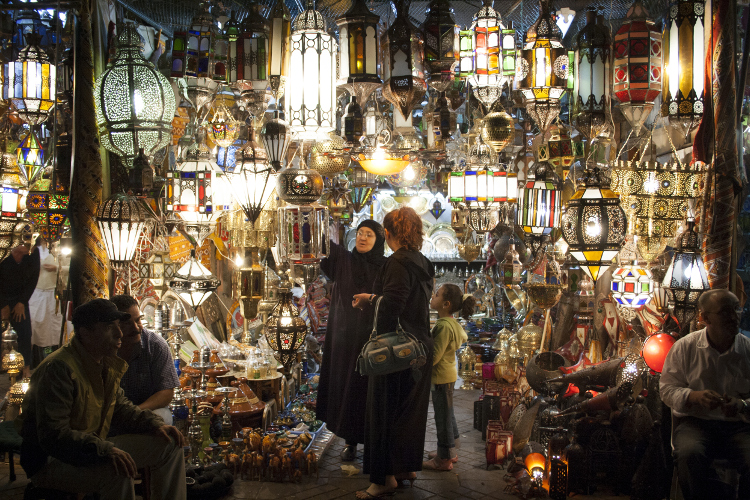 The Medina
The labyrinthine souks are not one but a cluster of markets that fan out along the medina's twisting alleyways north of the Djemma El Fna. Each of the named souks specialises in one item that's being made and sold, and you'll find carpets, leather, babouche slippers, jewellery, metalware, ceramics, baskets and more – mixed up with some made-in-China tourist tat – all crammed into tiny open-fronted emporium.
It pays to shop around and you can get a good idea of the range of handicrafts available, prices and quality with a visit to the fixed-price Ensemble Artisanal in the Ville Nouvelle. Guides are often affiliated to certain shops so don't be afraid to explore on your own; if you get lost – and you probably will – just ask a stallholder for 'la place'. Stallholders can be pushy but bargaining is expected, just don't engage in a lengthy debate if you're not serious about buying. Most stalls have a cash-only policy but more upmarket shops take credit cards; check upfront. Nowhere fits the Aladdin's Cave cliché better than Mustapha Blaoui, an enormous space piled floor-to-ceiling with everything from candlesticks and lanterns to textiles, ceramics and furniture.
There are also an increasing number of stylish, fixed-price boutiques. Souk Cherifa is home to a number of wardrobe-sized outlets, including Lalla, Laetitia Trouillet's line of stylish bags, Sissi Morocco, home of French artist Silvie Pissard's handmade purses and pillows, and fashion designer Artsi Ifrach's Art/C. The jewel-like Akbar Delights is filled with Moroccan-influenced, Indian cotton kaftans embellished with embroidery and sequins. There's no sign at Atelier Moro but climb the steep staircase to discover a host of stunning objects made by local artisans, including suede satchels and Tuareg cutlery.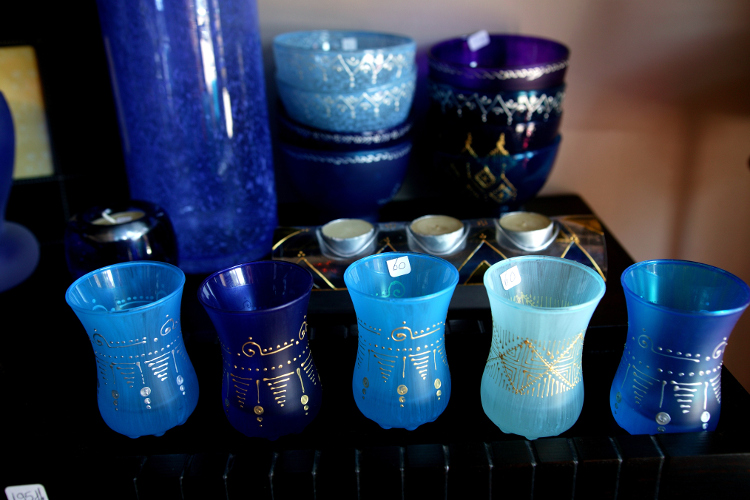 Gueliz
The upscale boutiques of Gueliz, the French-built European-style ville nouvelle, take away the hassle of haggling with fixed prices. You'll find them around rue de la Liberté, and many of them accept credit cards. Place Vendome is a Gueliz institution for great-value, bags, wallets and coats in butter-soft leather and suede and if you don't see what you want they can probably make it for you within a few days. Atika stocks high-quality, Moroccan leather and suede designer-style loafters in eye-popping colours and a fraction of the price (around Dh700/US$80). Scenes de Lin is the place to snap up embroidered tablemats, throws, cushions, tassel-fringed towels and linen robes. The designers behind Akbar Delights have created a new diffusion line, Moor, with contemporary kaftans and jackets, embellished with embroidery, as well as covetable faux-gem encrusted clutch bags.
For relaxed carpet shopping, head to Ben Rahal where two floors are piled high with shaggy Beni Ouarains; handiras, woollen wedding blankets from the Atlas Mountains dotted with sparkling sequins, and woven kilims in a kaleidoscope of colours. Opposite the must-visit Jardin Majorelle, the former home of Yves Saint Laurent, concept store 33 rue Majorelle has a constantly changing stock from over 90 Moroccan designers, including clothes, jewellery, accessories and crafts from fair trade cooperatives. Highlights include Migrants du Monde kaftans, and modern Moroccan fashion from Noureddine Amir and Fadila el Gadi.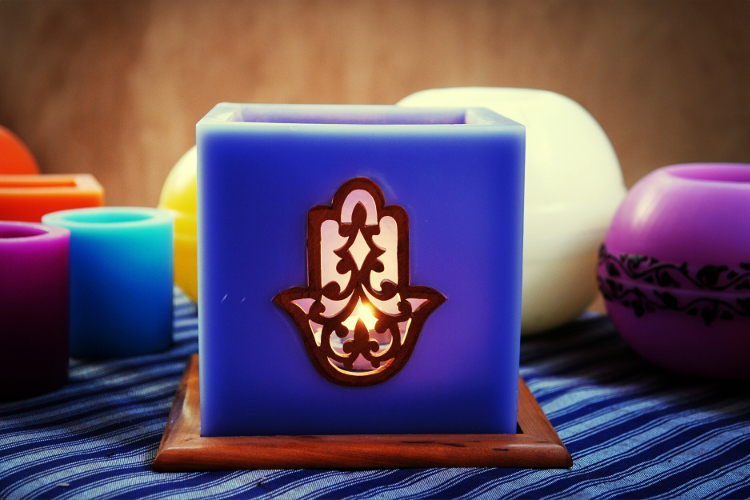 Sidi Ghanem
Serious shoppers and those with a riad to fill should hire a taxi and make for the Quartier Industriel of Sidi Ghanem, about 4km along the Route de Safi. This is the city's design district, filled with factory showrooms and workshops where you'll find original brand homeware, from large pieces of furniture to scented candles, clothes, accessories and more. Unlike the medina, it's laid out on a grid system and is easy to navigate, especially with the help of one of their free maps. Credit cards are readily accepted.
At La Maison Fenyadi, look out for over-sized Amira candles – they use the country's best essential oils, such as cedar, fig, rose and jasmine. Akkal does a modern take on classic Moroccan ceramics with pick-and-mix tableware in vibrant colours. Topolina is the eponymous atelier of French designer Isabelle Topolina, who has created a unique collection of clothes, hats and bags, upcycled vintage finds and turned brightly coloured printed fabric and oilcloth from sub-Saharan Africa into one-of-a-kind coats.
Need to know: Morocco's best buys
You can find almost everything in Marrakesh but there are bargains to be found around the rest of the country too. Buy as close to the source as possible for the best prices and be prepared to bargain.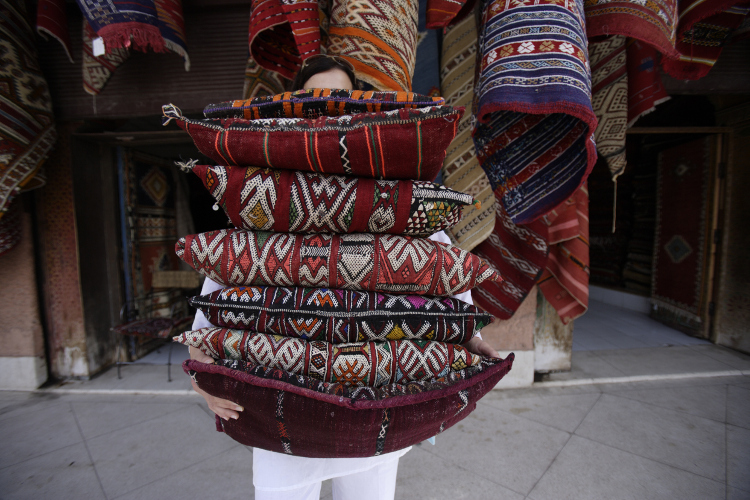 Carpets: There's everything from flat-weaved kilims to hand-knotted carpets and thick wool rugs. Quality, design and price varies wildly but serious carpet shoppers should head to the Middle Atlas towns of Azrou and Khenifra.
Leather: Both Fez and Marrakesh have photogenic, if foul-smelling, working tanneries, and a plethora of leather shops selling bags, belts, jackets, slippers and embroidered pouffes.
Silver: The most striking silver jewellery is made by Berbers in the High Atlas and the Touaregs, a tribe of desert nomads. Tiznit's silver souk and Taroudant are good places to buy everything from chunky necklaces to delicate filligree.
Pottery: Style and colour varies from region to region, but the main pottery areas are Safi, Fez – famous for its blue-and-white ceramics – and Salé for earthenware tagines and dishes.
Textiles: Weaving is a centuries-old art form across Morocco and today's best buys are silk and wool scarves, shawls and throws, as well as hand-embroidered table linens and kaftans.
Wood: Essaouira is the place to buy fragrant thuya wood items. And look out for ornately painted wood frames and intricate marquetry all over Morocco.
Spices: Ras el hanout is a classic mix of aromatic spices used for stews and grilling, and to conjure up tagines and couscous back home look out for cumin, turmeric, cinnamon, ginger, paprika and saffron.