Billabong Retreat review, Sydney, NSW: Weekend Away
Julie Miller
For full functionality of this site it is necessary to enable JavaScript. Here are the instructions how to enable JavaScript in your web browser.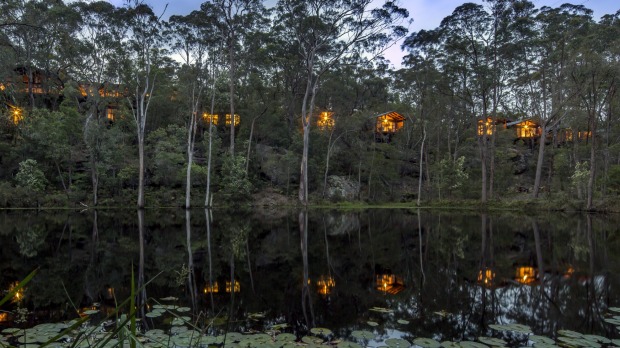 Our rating
5 out of 5
Highlight: Yoga with treetop views and birdsong.
Lowlight: the 3pm Friday start can cause unnecessary stress for city commuters.
THE LOCATION
Located less than an hour's drive from Sydney at Maraylya, near Windsor, Billabong Retreat is an eco-certified bush haven that offers yoga, meditation and mindfulness retreats (two to six days). The all-inclusive programme includes accommodation, organic vegetarian meals and a gentle, meditative style of yoga that links the body, breath and mind.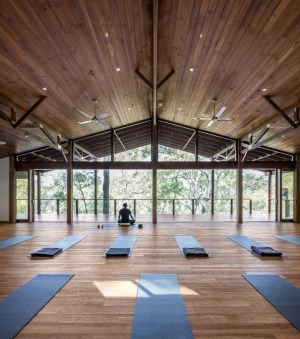 THE SPACE
Immersion in nature is an important part of Billabong's holistic approach to health and wellbeing. Centred around an ethereal, lotus-filled natural billabong, the  4.8 hectare resort sleeps 30 in a series of treetop cabins, with shared accommodation also available in the original homestead overlooking a magnesium-infused swimming pool. The main pavilion consists of two yurt-inspired structures linked by an open-air living space, plus a stunning glass-walled yoga room with a bird's-eye outlook into the treetops.
THE ROOM
Completed in September 2014, six Treetop Deluxe Cabins that cling to the escarpment offer the luxury of an upscale hotel, with a queen bed and pull-out sofa bed for extra guests, a spacious bathroom with rain-shower and deep tub, and a private deck boasting a claw foot bathtub for starlit bathing. Although the cabins are air-conditioned, there's nothing quite like leaving the doors open and falling asleep to the serenade of insects and frogs. Having said that, expect the odd insect and amphibious visitor – you are, after all, literally sleeping in the bush canopy.
COMFORT FACTOR
As a mere "dabbler" in yoga, the concept of a yoga retreat has always terrified me, with visions of exhausting, painful sessions, austere living conditions and sneers from those fitter and more flexible than myself. Imagine my delight, then, to discover a health escape close to home where there is no pressure, no contracts and no judgment. The yoga and meditation sessions on offer are all optional; guests can do as much or little as they like, with the emphasis on relaxation and de-stressing rather than boot-camp discipline. And to practice yoga literally in the treetops, to the accompaniment of whip birds and parrots, is sheer bliss – nature at its most inspirational.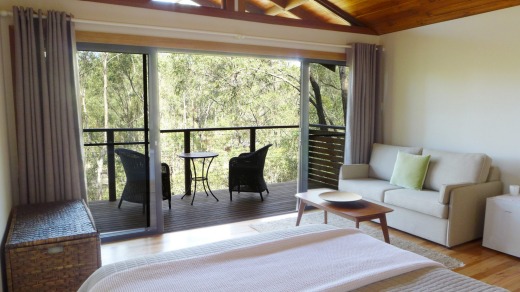 FOOD
The menu at Billabong is vegetarian and delicious, based on the principals of SLOW – seasonal, locally sourced, organic, wholefoods. A visit by a nutritionist to discuss the benefits of an organic diet is included in the program, and chef Mignon's delectable recipes are provided on the retreat's blog as inspiration for budding vegetarian chefs. There is no alcohol available at the retreat, and while guests are allowed to bring their own, it cannot be consumed in public areas. 
STEPPING OUT 
While maps are provided for walks and bicycle exploration in the local area, there really is little reason to leave the retreat. Yoga and meditation sessions are held several times a day, while guests tend to spend down-time having a massage or facial, swimming in the pool, strolling around the billabong or reading and chatting in the open lounge area. A guitarist provides musical entertainment on Saturday afternoon, and there are yoga and meditation-related documentaries shown after dinner.
THE VERDICT
Billabong Retreat is a revelation – an affordable, upmarket and tranquil yoga retreat less than an hour from Sydney that offers classes for all standards and doesn't discriminate against beginners. Many of the (mostly female) clientele have stressful corporate jobs and are seeking attainable methods of relaxation; others are gleefully escaping the demands of motherhood. The aim of the weekend is to establish habits that can be integrated into daily routine; guests are provided with a simple take-home program of poses and breathing that invigorates the body, calms the mind and takes up just seven minutes of the day. Every fellow yogi during my weekend stay claimed to have benefited from the weekend; I personally was totally blissed out, having found my nirvana.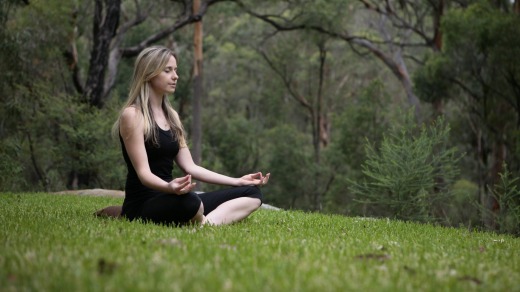 GETTING THERE 
From Sydney, follow the M2 north of the Harbour Bridge, continuing onto the M7. Turn off at Old Windsor Road and travel towards Windsor for 15km. Take the Boundary Road turnoff towards Maraylya; the retreat is located on McClymont Road, off Maguire Road.
ESSENTIALS
Packages vary from $400 a person for two nights (twin share in Harmony Cottage, with shared bathroom facilities) to $600 a person for two nights in the luxury Treehouse Deluxe Cabins (weekends +$75). Prices include all meals, yoga and meditation sessions and activities. Massages and spa treatments extra and must be pre-booked. See billabongretreat.com.au
The writer was a guest of Billabong Retreat.