Accommodation review, Barooga Golf Club Resort, NSW: Golf luxury aplenty
Steve Colquhoun
For full functionality of this site it is necessary to enable JavaScript. Here are the instructions how to enable JavaScript in your web browser.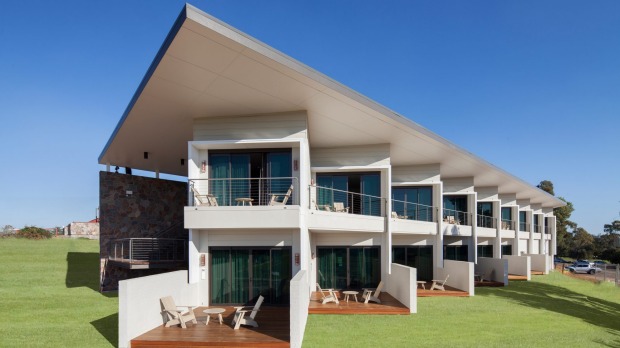 Our rating
4 out of 5
THE LOCATION
The Murray River that splits New South Wales and Victoria is famed for watersports, wineries and golf. Among the biggest and best-known of the sprawling region's golfing attractions is the Barooga Sports Club (or Sporties, as it's known locally). Numerous affordable motels ring the sprawling complex's two 18-hole courses to cater for mostly male groups seeking a golfing weekend away, so earlier this year the 75-year-old club opened 18 resort-styled hotel rooms. The $7 million development was designed to cater not only for more discerning golfers but also to give spouses a luxurious space to while away time as their partner chases that accursed little white ball. 
THE SPACE
The rooms incorporate shapes, textures and colours to create a stylish feel that wouldn't be out of place in a funky CBD hotel. They flow through to an outdoor timber decking that will – in the next stage of development – overlook the relocated 18th green. A surprisingly large bathroom includes a double shower and there's also a massive full-length mirror, all added with partner appeal firmly in mind. Sporties also completely reconstructed the reception, lounge and function areas that adjoin the accommodation wing, adding modern furnishings to create an upmarket space for after-round drinks and dining. A fitness centre a short walk away includes a gym, indoor pool and basketball court. 
THE KIT
Thoughtful touches include a bedside clock equipped with an iPhone dock (with old and new connectors), a big wall-mounted TV with dozens of cable channels, free and fast wi-fi, a fully-stocked mini bar and quality toiletries. There's a desk if work should intrude and plenty of hanging and cupboard space. 
COMFORT FACTOR
My golf buddy, a long-haul flight attendant who spends as much time sleeping in hotels as he does at home, opines the queen-size bed in his room is the most comfortable he's slept in. The climate control aircon is unobtrusive and the door's swipe card access instead of a key is unexpected in this rural setting. An outdoor, resort-style pool would have been a great way to finish the 36-degree day on which we played but is to be part of a forthcoming stage of development.   
FOOD
There are several pub-style options in tiny Barooga and across the river in adjoining Cobram but it's hard to go past the convenience and quality of the in-house offerings. Bistro manager Gary Chambers has decades of hospitality industry experience and offers a tasting plate that includes melt-in-mouth lamb ribs. It's a suitable prelude to a tender porterhouse steak he's been slow-cooking for days. The bistro also serves an excellent breakfast buffet, plus freshly made sandwiches, rolls and panninis that are a handy lunch pick-up halfway through a round.    
WORTH STEPPING OUT FOR
You want golf? There's an abundance outside your door, with the choice of Barooga's 75-year-old "Old" par-72 course, or the 25-year-old "New" layout to choose from. Both are long, tree-lined and persistently dog-legged, so there's plenty of challenge for hackers of all skill levels. Within an hour's drive are other resort-style courses at Yarrawonga and Tocumwal. The Rutherglen wine region is a little over an hour away and the abundant produce of the King Valley around two hours. 
THE VERDICT
There's much to be said for staying where you play. The Barooga Sports Club Resort offers something unusual – an abundance of challenging country golf with a dash of class on the side. 
HOW TO GET THERE
The Barooga Sports Club Resort is in Barooga, about 3.5 hours' drive north of Melbourne or eight hours' drive south-west of Sydney. 
ESSENTIALS
Accommodation from $200 a night includes breakfast and there are cost effective "play and stay" packages available. Golf from $33 a 18-hole round, plus $40 for an optional two-seat motorised cart. Book golf well in advance, especially if you want a cart. For weekends in October/November and March/April, bookings can be required three months or more in advance. See cbgc.com.au; phone 03 5873 4304 for accommodation and golf bookings.