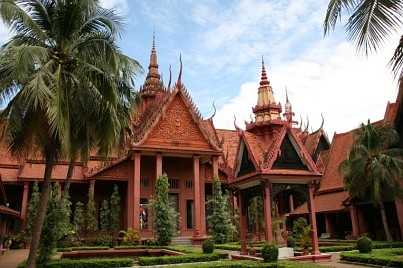 The activities scene in Phnom Penh is still developing, and for the time being tourists are content to get involved with the local culture, visit museums and see the major sites. There are a few expatriate bars and clubs along the river that stay busy at night.
Cambodia's burgeoning middle class is taking an interest in large-scale entertainment. This is leading to attractions like cinemas, go-kart tracks and a theme park. Aside from a couple of fine-art cinemas showing French films, these establishments aren't of much interest to tourists.

The most enticing entertainment for tourists takes the form of traditional music venues, cultural programs and Western-style leisure including spa treatments and golf. The old colonial presence left plenty of these facilities behind.


Thunder Ranch
Touts and tuk-tuk drivers try to steer tourists toward this shooting range in conjunction with a visit to the Killing Fields. It's an admittedly surreal juxtaposition, going from the site of a recent massacre to a range where you're handed an AK-47 and a few rounds of ammunition. Poor taste or not, this is the only chance most tourists will ever have to fire an assault rifle.


Naga World
Part of the Casino City group, Naga World is a stationary casino on the river just south of the city center. With around 200 machine-based games and even fewer table games, it's a relatively small facility. However, there is a hotel attached for those who'd rather not head back to the city after dark.


Sihanouk Boulevard
This family-style fun park is more of a local haunt than anything, but it's a good diversion for families with children who've had their fill of museums and historic sites for the time being. The carnival-style rides are charged on an individual basis.


Spa treatments
A few spa and massage centers are located on Sisowath Quay. These are ideal places to rest your muscles after an intense day of sightseeing. The two industry leaders are: In Style, known for Western massage techniques, and Senses Salon and Spa, with its Thai-style treatments.


Golf
Cambodia Golf and Country Club is one of the oldest courses in Cambodia and it sports a colonial clubhouse. The terrain takes a turn after the first nine holes. The first half is forested and includes several local varieties of trees, while the second half has more water features. The course is located 20 miles outside of town.


Traditional song and dance
Traditional Khmer music and dance was nearly eradicated under the Khmer Rouge, but these art forms are coming back into their own now. Chaktomuk Theater hosts traditional performances with listings in The Cambodia Daily newspaper. Meanwhile, the Souvanna Poum Theater puts on a traditional puppet show that children will enjoy.