Tianping Mountain
one of the best places in China to view seasonal colors
Tianping Mountain is located in the west of Lingyan Mountain in Suzhou and is at an elevation of 211 metres. It is named Tianping Mountain because of its smooth top. Tianping Mountain is an attraction with abundant humanistic and natural sceneries. It has been a place of great interest ever since Tang Dynasty. From then on, many famous people in the history such as Bai Juyiand Emperor Qianlong went there, leaving a large amount of poems and travels. Along with its rich humanistic recourse, it is also famous for its grotesque stone, crystal spring and red maple, which are known as the three treasures of Tianping Mountain. In front of the mountain, there are a number of maples with a history of more than 400 years.
When the winter is coming, the mountain is colored red by maple just as when the sun is going down, and the sky is covered with afterglow. It is extremely spectacular. Therefore it becomes a good spot to appreciate maple.
Walking up a path fringed with trident maples, you will encounter a huge, 400-year-old maple tree nearly 10 stories high. It will take three adults together to encircle it with their arms. At the foot of the mountain are 130 other trees also around 400 years old. These maples are known as the "five-color maples," referring to their autumnal color change from green to yellow, then orange, red and purple.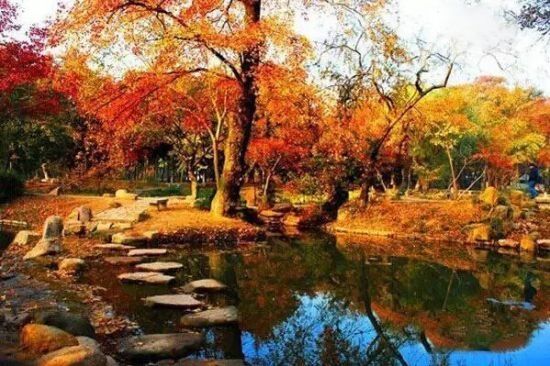 Even in early November, some maple trees near the lake already were turning intense red. Color changes depend on the temperature variation between day and night and other conditions.
Every year, thousands of photographers, painters and calligraphers gather to record the beauty of autumn in images and poetry. Watching the autumn colors at sunset, shifting in the breeze, is breathtaking.
Address: Ling Tian Road, Su Zhou City, Jiang Su Province, China (It is 14km on the west of Suzhou
situated 3 km northwest of Mudu Town.)
Opening Hours:
08:00-17:00