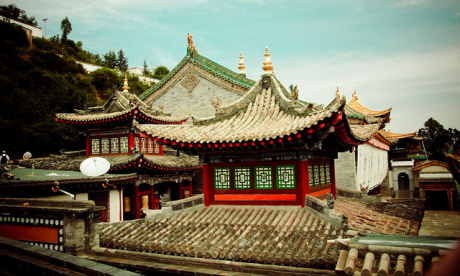 Nomads' land: Qinghai, China
China's wild western Qinghai region is the birthplace of the Dalai Lama, the source of the Yangzi river, and home to myriad minority groups
It was quite tempting but, really, what would I do with it?
"Go on – buy one!" the man urged, gesturing again at the Tibetan craftsmen stitching together giant ceremonial tents. Huge swathes of the blue-and-white geometric-patterned fabric lay on the streets and hung from the eaves. 
A small shelter cost around Y2,000 (£130) while the biggest tent would fetch up to Y40,000- (£2,600). 
I told my new friend that, actually, I already had an apartment and moved on to explore more of this incongruous part of Xining. Unlike the rest of the city – a modern grid of shop fronts, tower blocks, and swanky new developments – the Tibetan area off Jianguo Lu is a tumbledown patch of muddy lanes and crumbling buildings, filled with nomads, monks and the curious. It's no surprise – Xining is the capital of the little-visited western province of Qinghai (pronounced ching-high), a region of lush valleys, rolling grasslands and high plateaus of rock and ice laying east of Xinjiang's deserts and the mountain ranges of Tibet. Tibetan nomads, along with the Muslim Salar and Hui, Mongolians, Kazaks and the rainbow-coloured Tu (a Mongolian minority thought to be descended from one of Genghis Khan's generals and only found in Qinghai), account for half its population. This distinctive ethnic mix gives the city and the whole region the feel of a separate country – a separate era, even. 
It was easy to spot the minority groups. The nomads – women sporting imposing heads of braided hair, men in fox-fur hats – were haggling for supplies. And not just standard tent essentials: these days well-to-do nomads can buy solar panels and hook them up to radios, light fittings or even karaoke machines.
The Buddhist monks in their sweeping burgundy robes were also bargaining, for everything from glowing prayer wheels to amulets, pouches of Nepalese tobacco, brass bowls and religious robes. I decided to join them, browsing shelves of beads and incense burners. The Tibetan shop assistant was friendly – as was everyone I'd met – and curious, wanting to know where I was from, where I'd learnt Chinese, how I liked Xining? Travellers are a rare sight in this region, which barely gets a mention in most guidebooks. Eventually I decided to buy a sheaf of photos of the Dalai Lama.
"You shouldn't have any trouble taking these back to Beijing," said the assistant. "But even so…" and she wrapped the photos inside an opaque bag and sealed it efficiently with brown tape. The Dalai Lama's image – freely available in Qinghai – is officially frowned on, and its public display forbidden, in Tibet proper.
Indeed, Qinghai's Tibetans appear to have more freedom than their counterparts in Tibet. American Jamin York, who runs a travel adventure company in Qinghai, said he thinks it's because the government is a little afraid of the region's Tibetan groups – the warrior-like Kham and the devoutly religious Amdo. "If the government were to come in and apply the same religious restrictions here as they have in Lhasa there would be some major problems." 
But what makes Qinghai so special for Tibetan Buddhists is that the 14th Dalai Lama was born here. And, amazingly, his home is open to visitors. 
The drive to the house in Taktser, a little village of pressed-mud homes an hour from Xining, took us through deep-green valleys of terraced fields punctured every now and then by white stupas smothered in prayer flags. We snaked past Tibetan villages of stocky courtyard homes, which almost looked like medieval forts, with their high walls and imposing doors. Chained mastiffs dozed in the sun. 
The exiled leader's home is the swankiest in this poor farming village, its front doors marked by a wispy white kata – a ceremonial Buddhist scarf. An old Tibetan woman with brown teeth and a pigtail that swung almost to her knees opened the door. She said she was the Dalai Lama's older sister's son's wife. The Dalai Lama's nephew, Gonpo Gashe, is the caretaker. 
The entire complex was rebuilt in the 1980s, Gonpo explained as we walked past what seemed a slightly incongruous tractor parked in the doorway and the Chinese-made Xiali car under a sheet in the garage. The room where the Dalai Lama is said to have been born is now a shrine. Inside, a giant painted prayer wheel spins in front of his holiness' portrait.
In the rear courtyard I climbed a creaky wooden staircase to the side of a small temple. Here, a side room is filled with more photos of the Dalai Lama placed before a cushioned throne. "It's just waiting for him to return," Gonpo said, smiling.
Qinghai isn't only the birthplace of Tibet's spiritual leader – it is the source of the country's three main rivers, too. Five thousand years of history has relied on these waterways; without them there would be no China. And a trip to the source of the second longest, the Yellow River – known affectionately as the nation's 'mother river' – is just a few days' travel from Xining.
Some 60km outside the city the road crosses the Sun Moon Mountain Pass, the historical and cultural border between Greater Tibet and China. From here we wound through rolling grasslands; snow-capped mountains fringed the horizon. The people were predominantly Tibetan nomads. 
Maduo, a good day's drive south, is a scruffy town some 4,300m above sea level. It's one of Qinghai's coldest; it can snow even in summer. But it was from Maduo that we set out to see the two giant alpine lakes, Ngoring and Gyaring, which feed the 5,500km Yellow River. 
It was a rough ride of four or five hours in a jeep. On the way the empty grasslands inspired feelings of solitude, only broken by herds of Tibetan gazelle and the occasional nomad family camped in yak-hair tents. Ponies tethered nearby couldn't help shaking the bells tied to their bridles. We stopped at one of the dwellings and were invited inside.
The tent was clean and simple; a stove sat in the middle, fuelled by dried yak dung and surrounded by pots of barley flour and butter. Beautifully painted wooden chests and yak-hair bags containing the families' valuables sat at the back. 
"Tibetans are hospitable, but Tibetan nomads even more so," said Jamin. "Etiquette is simple: never point; walk under, not over, prayer flags; and don't handle Buddhist images." 
After tea we walked down to the lakes, where the silence was broken only by the cracking of the ice and the sound of rushing water. It was breathtaking, and nearly impossible to imagine that these frigid blue expanses of water, stretching almost as far as the eye could see, feed a river that turns into a polluted sludge thousands of kilometres to the east. Around the lakes lay tumbledown stupas of stones, wreathed in prayer flags and piled high with mani (prayer) stones. The lakes are sacred for Tibetans and, despite being remote, attract many pilgrims. 
But not many tourists, I considered, as the water glistened in front of me, my companions and no one else.
Perhaps, I thought, there's another, more practical reason that guidebooks tend to expend so few pages on this magical region: they simply can't put it into words.
Footnote
Getting there & around
There are several flights a day to Xining from Beijing and Shanghai; China has numerous domestic airlines. Xining is on the Beijing/Shanghai to Lhasa train route and there are several departures from both cities daily, with sleeper cars to Xining.
Although there is a comprehensive and inexpensive long-distance bus network, the best way to get around is to hire a car and driver so you can stop wherever you want. For day trips you can bargain with a taxi driver.