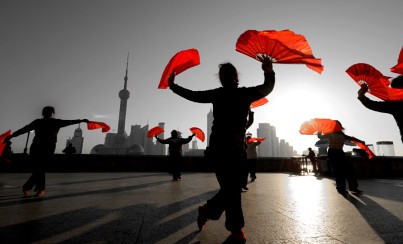 Shanghai is a booming metropolis on par with New York City. It is home to millions and exudes plenty of cosmopolitan energy. Visitors will find that services and merchandise may be refreshingly affordable or alarmingly expensive, depending on where they spend most of their time. But wherever they venture, they enjoy world-class facilities.
Customs and etiquette
Shanghai's long history of Western involvement resulted in a diverse and tolerant city. While mainstream rules of Chinese etiquette apply, locals are quick to overlook minor missteps. The most important concept is that of 'face', and Chinese will help each other 'save face' by using honorific titles when appropriate.

Tourists have a hard time knowing whether to tip when dining out. Strictly speaking, it's forbidden by the government though it still happens in a few of the swankier restaurants in Pudong and the Bund. Tipping never happens in smaller restaurants, and taxi drivers are likely to hand change back to passengers.


Money
Shanghai's local currency is the renminbi yuan, which may be abbreviated as RMB or CNY. Yuan cannot be exchanged outside of China, so visitors are advised to convert any remaining cash into another currency before leaving the country.

Facilities are world-class in Shanghai, with banks and ATMs widely available. Credit cards are generally accepted at top-end boutiques, department stores and restaurants, though some of the smaller merchants may still insist on cash.

Costs vary considerably, with backpackers able to find dorm beds at less than Y100 while well-heeled travelers can spend many thousand on a single night's stay. Food and drink cost more in Shanghai than in most other cities in China.
Weather
Shanghai has four seasons. Summer heat peaks in July and August, and this can be an uncomfortable time for outdoor sightseeing. This is, however, the peak tourist season, and the heat doesn't matter much as indoor, air-conditioned space abounds. Spring and fall are more comfortable, and there are fewer crowds to contend with.

Winters are quite cold, especially after hours, so be sure to pack appropriately. January and February are also when Chinese New Year is staged, and hotels book up early as crowds of visiting Chinese surge into Shanghai.


Transportation
The easiest way to get around in Shanghai is by taxi, which can usually be hailed on the street. Fares are affordable by Western standards, and tourists are better off trusting a taxi driver than renting their own car and braving the hectic driving conditions. The metro is also increasingly useful, with eight lines in operation and four more on the way.

Most international visitors arrive via Pudong International Airport (PVG). It's located 40 kilometers outside the city center, so transfers are essential. Meanwhile, Shanghai Hongqiao International Airport (SHA) is more centrally located, 10 mile from city center. Taxis are on hand outside the arrivals hall and are considerably more expensive than the airport buses. The Maglev train (from PVG) is the most convenient as it arrives in the city center (People's Square) in a startling eight minutes.


Fast facts
Population: 18,000,000
Spoken languages: Shanghainese, Mandarin
Electrical: 220 Volts, 50 Hertz
Phone/calling code: +86 21