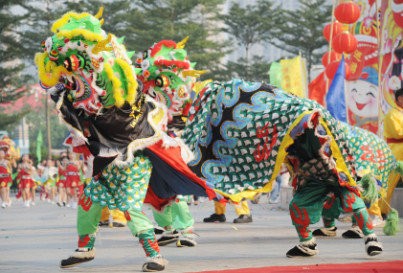 Hong Kong attracts a wide variety of different visitors as there are plenty of things to do here. Those who are interesting in sightseeing will find numerous pretty buildings and monuments, while sun worshippers can lay back and soak up the sun or indulge in a range of water sports.
Hong Kong is popular with shoppers and there are plenty of places to browse for bargains here. Many of the main shopping districts are also packed with bars and restaurants, which provide a range of evening entertainment.

A great time to visit Hong Kong is during one of the city's vibrant festivals, which usually last for several days and feature street parades, fireworks and plenty of drinking and dancing. Chinese New Year is certainly the most colorful festival, while fashion lovers will want to witness Hong Kong Fashion Week.


Hong Kong Disneyland
For visitors traveling with children, a trip to Hong Kong Disneyland is sure to be on the itinerary. Located near Hong Kong International Airport, this large theme park manages to capture all the Disney magic.


The Waterfront
Situated in the Tsim Sha Tsui neighborhood, many of Hong Kong's famous landmarks are located here such as the Hong Kong Museum of Art, Clock Tower, and the Hong Kong Space Museum. Culture vultures can drink in their fill before wandering along the promenade for stunning harbor views.


Trekking
Those who appreciate natural beauty and fresh air will find more than 80kms of trekking trails to explore. One of the most popular trails takes trekkers up Tai Mo Shan to gaze at stunning views of the Shing Mun Valley.


Chinese New Year
Celebrated in February, Hong Kong really comes alive during this festival. Visitors will be able to witness intricate lion dances, firework displays and colorful parades. This is also a great time to try traditional Chinese food and drink.


Rock climbing
Thrill seekers and those who want to get away from the hustle and bustle of the city can climb the 500ft Kowloon Peak. Another popular climbing spot is the sea cliff at Shek-O.


Nightlife
Hong Kong has a thriving nightlife scene and many bars, pubs and clubs stay open until dawn. There are plenty of bars to be found on Carnarvon, Cameron, Chatham and Mody roads, while Lan Kwai Fong offers trendy bars and nightclubs.


Hong Kong Fashion Week
Visit Hong Kong in January to watch spectacular displays of the most contemporary fashion collectors worldwide as well as items by celebrated local designers and famous names from around the world.