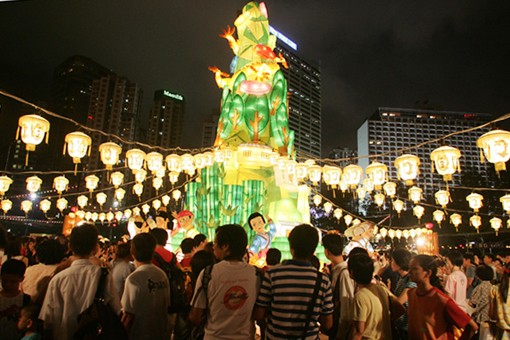 Moon-cakes and dragons, clear skies and hiking – an autumn holiday in Hong Kong means getting the most out of sunshine and bright blue skies, plus plenty of colorful festivals.
Chinese festivals
Traditional Chinese festivals are a cacophony of fireworks, food and firecrackers. The year's biggest and brightest moon lights up the harvest-time Mid-Autumn Festival, when locals buy moon-cakes filled with lotus and sesame seed paste piled high in shop windows. In the evenings, families gather in Hong Kong's parks illuminated with colored paper lanterns shaped like animals. For the festival's most spectacular sight, watch the spectacular fire dragon winding its way through the streets of Tai Tang, near Victoria Park in Causeway Bay.


Hong Kong's best views
On your Hong Kong holiday, autumn is a great season for getting an eyeful of those spectacular views, with little chance of fog, mist or storms. Choose a top vantage point like Victoria Peak's Sky Terrace with 360-degree views of glistening skyscrapers like the geometric-lined Bank of China building. Although it's usually prospective tenants who ascend Hong Kong's tallest building – the Two IFC (International Financial Centre) in Central District – anyone can get the lift to the 55th floor for a fabulous birds-eye view of Victoria Harbour and its surrounds.


Hiking and trekking
The season's lower humidity and fresh breezes makes it a great time for exploring Hong Kong's swathes of tree-covered hills. Most popular is the Dragon's Back Trail, taking in Tai Tam Country Park on Hong Kong island, through shady bamboo groves and open hillside to Shek O Country Park. Here, the views from the top of the Dragon's Back spinal ridge stretch to distant islands and bays of the South China Sea. Finish up with a fresh seafood feast in Shek O fishing village.


Hairy crab festival
Hong Kongers take their food seriously, so it's no surprise that the hairy crab, also known as the Chinese mitten crab, merits its own festival. September and October are the best months for this gastronomic delight. Locals pack city-wide restaurants serving up specialist dishes like steamed crab, crabmeat wonton and even drunken crab, where the crustacean is plunged (alive) into rice wine.


Sun, sea and sand
Early autumn means it's warm enough for an afternoon on the beach. Try the peaceful village beach of Chung Sha on Lantau Island, with several small restaurants close by. The city's surfers gather at the tiny Shek O beach, which is surrounded by dramatic cliffs. For golden sands and a touch more glamour try Deep Water Bay - with plenty of barbecue pits it's wildly popular at weekends.


Hong Kong International Jazz Festival
A holiday to Hong Kong in autumn can take in an eclectic variety of live music. Hong Kong Cultural Centre on Tsim Sha Tsui's waterfront has year-round performances of traditional Chinese and Western orchestras. November has even more, with top global jazz artists gathering for the foot-tapping Hong Kong International Jazz Festival at various city-wide venues. And for those who prefer their music a little more lively, the outdoor Rockit Hong Kong Music Festival sees Asian rock and electronic bands bring Victoria Park to life.


Macau Grand Prix
The one-hour journey by fast ferry west across the South China Sea to Macau makes a good day trip. Colossal casinos, fine wines and tranquil European-style cobbled courtyards make this former Portuguese colony a popular weekend break for Hong Kongers. The city fills up during November's high-octane Macau Grand Prix, where the challenging street circuit roars with Formula 3 and bike races.