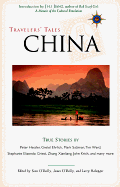 Travelers' Tales China: True Stories
Travelers' Tales Japan: True Stories
was "the" book that helped me understand Japanese culture and its people when I taught there. Nothing, well almost nothing, surprised me and that made a difference. Understanding does not necessarily follow knowing, but knowing certainly aids the transition into an alien world, even provides a certain comfort.
A much larger country than Japan, with many more dialects, it's harder to include stories that reflect the entire nation, but Travelers' Tales China: True Stories
does give one "a feel " of China. It does this by including varying stories by a number of writers/travelers on different parts of the country, as well as its people, customs, history and political background.
The book is divided into five parts: Essence of China, Some Things To Do, Going Your Own Way, The Shadows and The Last Word. Each part has several articles and within each article are sidebars of more authors on the specific topic. This provides additional reading material, thoughts, perspectives on that particular subject matter. For example, Part One deals with the essence of China – 10 true stories of experiences in such places as Fuling, Beijing, Hainan island, The Yantze River…
The first several stories are on China's essence; essence being a word that has a powerful pull. The Fuling article concerns teaching English, learning Chinese, running in a polluted environment, how it feels to be an outsider. For Beijing, we see there are still places where foreigners are a surprise! The Hainan Island article is a poignant story of the author's meeting with an intelligent, poor, cultured, elderly woman whose one regret the author fulfills – may even produce a tear or two. We follow Arthur Zich on the Yantze River and the Three Gorges Dam to see how this project is changing China and how the Chinese are reacting to it. In the next story, we learn that biking in China is a "communal activity, a meditative endeavor, even when used for utilitarian purposes". We observe what the author observes as she pedals: food vendors (small eats), produce vendors, meat mongers. Kathleen Lee cycles into the heart of the Middle Kingdom – Sichuan Province, Chengdu – no matter the suffering (three-year famine in the late 50s, Cultural Revolution) – the Chinese do not exhibit anger, bitterness or resentment. They accept. I find this quite remarkable.
"Bus travel is like a Zen meditation: an exercise in uncomfortable concentration." Yet, a sort of connection is made, however temporary. On Ms Lee's second bus ride to remote Siguaniangshan, she writes: "ten-hour bus ride was all consuming; I had forgotten that I had a destination". From Siguanianshan she jeeped with several Chinese who had brought their lunch along – a live chicken.
The next story is on Communist travel – a second class ride turns into a first class experience. Sean Presant finds himself "accidentally" in second class, stared and gawked at. You see, the Chinese government goes to great lengths to keep foreigners and nationals separated on trains. After hours of smiling ridicuously, still stared at, Sean Presant spots a head of blonde and goes in search. What follows next – in several tiny, powerful, hilarious and sad steps – will amaze you. It did for for the writer and I.
A trip to Qufu gives another look into China, the town and home where Confucius lived and taught, 2,000 years old, "the nearest thing to a slice of Old China that still survives in the People's Republic". In perspective, Confucius was born a generation before Buddha and died a decade before the birth of Socrates. How did Qufu survive the onslaught of Communism and the Cultural Revolution – with great difficulty and a lot less, but still there, very much so.
Karin Faulkner's experiences at the Chinese "hair shops" left me wanting to go there just for that! Here's why. A hair wash and rinse can take up to an hour, an hour of sheer bliss. Who cares what happens afterwards! Seriously though, Ms Faulkner walks out of the shop "thought free as if I had been beheaded while still smiling". All this for about $2.50.
Pamela Logan travels through Inner Mongolia on a mountain bike bound for the frontiers, to find the mausoleum of Genghis Kahn. Mongolians, she discovers, have taken to settling in cities. Their nomadic days are a life of the past. Ms. Logan goes into the Ordos – poor and undeveloped – and finds the people good. She says this to Otelai, a dance partner – "his grip tightened and his hand became warmer". Connection made.
Tim Ward meets Zhou, a university student who is part timing as a photographer at one of the Holy Mountains of Buddha. He and the author develop a trusting relationship; we learn another side to the Cultural Revolution, the one-child-per-family population control and how this policy approaches single versus married women. (I thought of Afghanistan, the harshness of life for women who had lost their sole support to war, the strict rules impeding women from making a living.) The Cultural Revolution punished the woman who rents space in a formerly abandoned farmhouse (actually a temple) on the island of Putuo. Evicted from her home with two small children, marked as a wife of a criminal, Zhou's landlady could find no work, nor was she allowed to leave – a dilemma to be sure.
In another story, Emily Hahn (1905-1997) goes to China because it's close to Japan where she happens to be. Once in China though, she knows her plans for the Congo will not materialize. China is where she wants to be, from day one. In time she begins smoking opium, gets addicted and un-addicted, writes 52 books, as well as short stories.
Ted Pigott who now lives in Taipei, Taiwan, taught English in China and decided to visit Tibet during his two-month summer holiday. Thanks to Mr. Chen, his Chinese superior at the school, he was able to get an entrance stamp into Tibet and another one back into China. But wait. "Don't be like Richard Gere, Bu-lai-de Pi-te and Hay-lu-sun Fo-do" (Brad Pitt and Harrison Ford). What? Apparently, they represent the Western idea of Tibet – not ideas the average Chinese know of. The author is reminded to be careful, not to make trouble. He didn't make trouble; only "watched mountains roll out across the Tibetan plateau".
Slightly smaller than the U.S., 14.86% of its land arable compared to 18.01% in the U.S., 11+ ethnic groups with as many dialects, and an estimated population of 1,321,851,888 (as of July, 2007) compared to 301,139,947 in the U.S., makes China difficult to know well, even harder to become an expert on. Although not a guide to the best, cheapest accommodations, flights and restaurants, Travelers' Tales China: True Stories
provides a peek into the mind, heart and soul of an immense country, developing at a frenzied rate, some of its development in time for the Summer 2008 Olympics. I'd be surprised if you don't close this book at the end, and feel you know China and the Chinese a little bit more and better, yet not completely – that's the lure of China.