Things to Know About the 'Jing – Beijing, China
TIME : 2016/2/27 15:49:54
Things to Know About the 'Jing
Beijing, China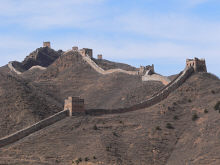 The Great Wall :: Simitai
If you come in winter, the temperature will probably have an impact on which section of the Great Wall you should go to. I was at Badaling in late December and the temperate was around 10 F, not counting a significant wind chill. I could only take it for about 45 minutes before I had to leave. (It wasn't too crowded though, which was nice.) Badaling is only an hour from the city so it's not so bad, but it might not be worth it to go to Simitai–a three-hour drive–if you can't stand to be outside for more than an hour.
There's a chance of snow in the winter, but it only snowed four times this winter – never more than a day, usually just a few hours – so that's probably not a big deal. And the snow doesn't really affect anything–it actually makes most things nicer looking–so it should be okay. (It might affect a Great Wall trip though–I'm not sure.)
As you've probably heard, Beijing is incredibly polluted, so if you have asthma make sure to bring your inhaler. And possibly an extra one, since pretty much every big Chinese city is incredibly polluted.
Random Info
Lots of people will say "Hello" to you, especially around tourist places. They can be ignored–it's the only English word they know, and all they want is for you to repeat it, sort of like a parrot. Really.
Every tourist attraction will have "art students" who want to show you their art show. Some may be art students, but the rest is a lie: they will just take you to a store full of overpriced knock-offs of famous Chinese paintings. Generally the "art students" will start with "Hello, where are you from?" and ask about your trip a little before telling you about their exhibition. Sometimes if you say "Are you an art student?" as soon as they start talking, you can get rid of them. (They giggle and go away.)
Steamed potstickers are called jiaozi (gee-ow-tzuh). You can buy them on the streets–look for places with wicker steamers–and they are really, really good.
Needless to say, don't drink the water. The locals don't drink it either, so you should be okay, and the ice at most places is okay. (Generally they don't use it, so if you get it it's probably okay, although you should consider what sort of place you're in before you eat it!)
Resources
There are a couple of free English magazines around that you should pick up if you see them: That's Beijing, City Weekend, and Time Out-Beijing. They'll have current information on what's going on in the city.
Frommer's also has a pretty good online section for Beijing.
---
My blog: Me and Chairman Mao