Where Yunnan meets Tibet: Deqen (aka Deqing)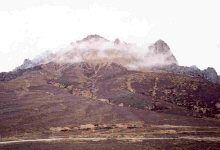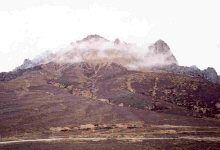 Meili Glacier Park



Unlike Zhondian which sprawled and stretched, Deqen huddled itself in the folds of Prince Meili Snow Mountain's robes. I liked the way the street leading to our Meili Hotel gently sloped upward. Multi-leveled shops sold silk cloth, Tibetan-style dresses, men's trousers and shirts, aprons (for married women), silver-sheathed daggers, and rugs. A bakery sold cakes and cookies.
Our hotel room had good heating and a hot pot attachment for tea preparation. Although not as glamorous as the Pacific Rim (Chris noted rooms could be rented by the hour), we were toasty warm and smack in the middle of town. In the morning, we ventured out to buy steamed bean buns from a street vendor (two for one yuan).
We greeted two Canadian backpackers in the street. Which leads me to another travel question. Where does one draw the line between friendly and nosey? I don't like to bother other people when they travel, but on the other hand, it's incredibly stupid to walk by a fellow traveler with your nose in the air. If you ask a few questions, you might learn a few things or even share some of your own experiences. I know some travelers (especially Americans) hate to run into other (American) travelers on the road. As if that blemishes the 'experience'. On the other hand, don't you hate the traveler who questions you like he/she's doing a survey for home products? I try to keep my nosiness down to a few questions and then carry on.
We tagged along when Norman and Ge Sa stopped in a shop selling daggers. We weren't sure at this point who was on vacation, us or the guides. Deqen brought out the tourist in all of us.
Just ten kilometers east of Meili Snow Mountain, Deqen had an authentic border town allure. Small by Chinese standards, twenty percent of the town and surrounding population were yak herders. We drove a few kilometers outside town to view Kagebo from the Photographer's cafe which shares the view with a cemetery of stupas.
The weather had changed, and Kagebo hid in a shroud of gray clouds. Mr. Zhang guided the jeep past yaks as we headed toward Rooster Mountain. When we arrived at the White Horse Reserve Zone, we scrambled out of the jeep for a brisk walk at 16,000 feet.
Ge Sa burst into song and Norman shivered in his lightweight jacket meant for Lijiang weather not Tibetan border-towns. Rather than feeling weakened by the thin air, I wanted to run. The chilling crisp air crept into every pore. And suddenly something clicked.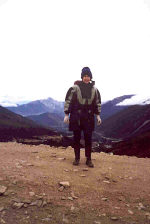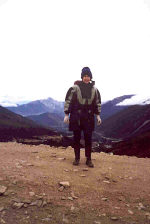 Finally, Shangri-La



This was it. Cold, unforgiving, and empty. The postcard blue skies from yesterday were gone. In their place, mist and the first hints of snowflakes churned up an incredible rush of energy from within. I had always wondered what the big deal was about mountains. Why bother with the hardships, and in some cases, the risk of death? But there was something inexplicably powerful about being almost alone in the middle of the most populated nation on Earth.
Some say that the Tibetan translation of Shangri-la is "Having the moon and the sun in one's soul". Well, maybe for a moment, the mountains zapped me with a shot of sun and moonshine. Magic is like that – it hits you when you least expect it.
I wanted to run to the top of the path where the snow met the horizon. We didn't (everyone shivering) – we turned back to the jeep, but I could still feel the aura of the place as Mr. Zhang gingerly guided the jeep back to the main road enroute to the Eastern Bamboo Monastery.
It didn't matter where we went from here. Shangri-la isn't exactly a place – but a moment in time.
Postscript: This travelogue is dedicated to our travel organizer, Yinjie, and our guides and drivers, Jacky and Matthew, Norman, Mr. Zhang, and Ge Sa who, patiently, and with great kindness, helped us find our path. Thank you!