Since it was renamed 'Shangri-la' by savvy officials 2001, remote Zhongdian has popped up on the Chinese travel circuit. ?The old town is now a warren of glossed-up 'new' old buildings filled with tourists, although most of the locals are of Tibetan descent.
I've arranged a homestay with Chui Pi, a local Tibetan and part of a longstanding Khampa 'cowboy' tribe.
Chui Pi is only 28, but he's achieved a lot. He started training at an early age with a horse-performance troupe and soon moved on to racing and archery. In his first race at 16, he placed sixth in a local hada competition, in which riders complete a 500m circuit attempting to pick up as many 'hada' (silk scarves) from the ground as possible. Since then he's ?won nine gold medals since and is the 2008 champion.?He was even selected to be the Shangri-la bearer of the Olympic flame during the 2008 games. (Not long after I settle down in the living room, the torch comes out and is shown off over customary cups of yak-butter tea.)
Chui Pi's home is built in typical Tibetan fashion: large, tall and squat. The entire space under the sloping roof is used for storage and to keep feed for animals. The first floor houses a huge living space that doubles as a kitchen, dining area and living area. A central fireplace warms the house. The carved wooden motifs and colour scheme combined to create a 'Buddhist psychedelic' effect. At night, I listen to the constant bleating of the goats under the living quarters.
The next day starts out grey and wet. A light drizzle covers everything. The mist and clouds combine to form a low-hanging shroud that obscures the top half of the surrounding mountain range. Chui Pi teaches me to saddle up and ride a horse. It's a bit of a departure from what I've seen in cowboy movies: the saddle is nothing more than several blankets thrown across the horse's back, and bells attached to the reins tinkle when the horse moves.
We make it out to Napa Lake, which dries out for several months a year and turns into a verdant grassland. This is cowboy country: rolling green hills, lush grass plains, roaming herds of yak, sheep, pig, horses, and wooden houses sprinkled around the plains.
Chui Pi's parents live a nomadic existence despite their advanced ages (his dad is 69, his mum 68). They follow traditional yak-herding patterns. From March until June, they live in a makeshift wooden house in the middle of Napa Lake. From June to August, they pack up and move their herd up a neighbouring mountain. Apparently, the grass up the slope is medicinal and makes for good yak butter. The rest of the year is spent in yet another grassland near Chui Pi's house.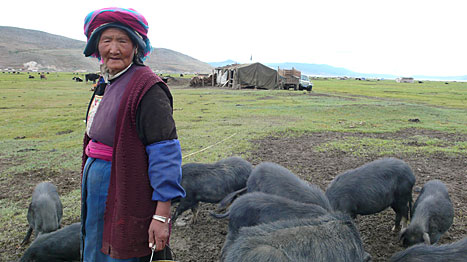 While preparing for a horseback archery session, the horse I'm riding, Little Black, bucks and takes off, with me on its back. The experience is terrifying - akin to a scene from a movie where a car spins out of control. In fact, it's even worse, because the horse has a mind of its own. My attempts to 'brake' fail. Little Black careers across the plains at full speed and shakes his head, trying to throw my hands off the reins. He thunders towards yaks, pigs and leaps over a Tibetan mastiff. I'm screaming, 'Stop!' but probably only end up agitating him more.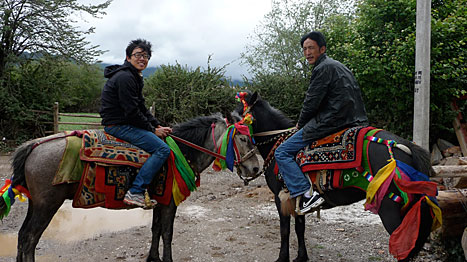 I have visions of being flung off the horse, leg caught in the stirrup, getting dragged across the grasslands. In the end, the only thing I can do is to hold on for dear life and pray that Little Black runs out of steam before I do.
He finally stops in front of Chui Pi's parents' wooden dwelling. I leap off, my arms stiff, fingers cut from pulling on the reins. When I lead Little Black across the grasslands back to where Chui Pi was waiting, the locals who have turned out in force to watch us laugh and tease me before offering me a cigarette to calm my nerves.
Still, I thank the Gods that I survived generally unscathed - severe abrasions on my posterior aside.