In a country of brazen high-rise buildings, revolutionary Mass Rapid Transit systems and copiously modern shopping malls, initial impressions can be deceiving. Delve beneath the surface and venture into the suburbs to encounter the cultural soul of this city-state, with its unique and thriving blend of cultural history that is best explored and experienced first hand.
In a city so modern, it is a deliciously rare delight to witness such a strong and active cultural base. The identity of Singapore is a magical blend of three distinguishable races, very much influenced by Western ethos, yet each resilient in keeping their own ethnicity rich and alive.
With a strong inclination towards the vivid and vibrant, I commence my trip by choosing to explore Little India, situated to the east of Singapore River. From experience, the mention of anything Indian conjures images of intense, conflicting colours mingled with exotic aromas. And I revel in no less in this Indian district of Singapore.
The impact is almost instantaneous when stepping into Serangoon Road – a main road in Little India which stretches far, and offers much to see. As you stroll through this and its many branching streets, feast your eyes on dangling displays of fragrant, hand woven garlands in brilliant shades of reds, yellows and whites. Tune your ears to the prevalent melodies of high pitched singing and classical instruments blasting from music shops. And breathe in the redolence of spices and incense wafting from discreet shops in alleyways.
Much like the rest of Singapore, there is no shortage for shopping in Serangoon Road – from creative Indian artifacts to popular goldsmith shops, and elaborate sari shops to accomplished tailoring services. There seems to be a shop to suit almost every inclination. So it's pointedly not long before I feel the need to go hunting for a money exchanger. After asking around, I gather from the consensus that the Mustafa Shopping Centre money exchanger is the place to go. The moment I come upon this colossal, air-conditioned building I understand why. Not only do they offer money changing facilities, but Mustafa also has its very own fast food restaurant and travel agency – all this, of course, apart from being one of the most popular shopping destinations for tourists and locals alike. Mustafa can be described as a one-stop shopping experience. It sells everything from electronics to clothing, and even medicinal and grocery items. To top it off, I discover that Mustafa is open 24/7. It's no wonder, for I sense there is much demand as I endeavour maneuvering through the constant crowds that haunt the massive shopping complex.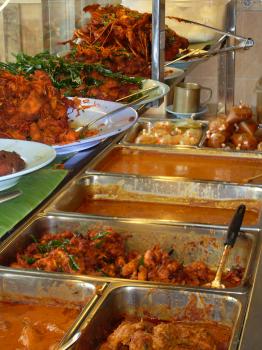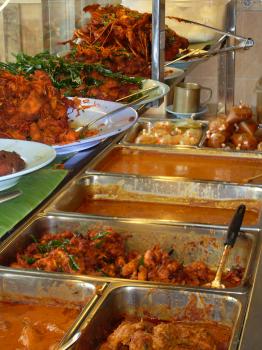 A1 Restaurant in Little India
It is way after noon, and my stomach begins to pester me. I change course, trusting the keen instincts of my nose to find me a place to eat. But this seemingly simple task soon becomes more challenging than I anticipate. Affordable and appetizing eateries dot every street like a generous scattering of breadcrumbs. I feel like a pigeon, pecking my beak into each one I pass, scanning through their menus and becoming more overwhelmed by the second. From Indian Muslim coffee shops serving hand pulled teas and sweets to vegetarian and non-vegetarian restaurants serving traditional South Indian Masala Dosa's and Thali meals on banana leaves. There are even Indian fast food joints serving lentil burger meal deals! The only solution to such a dilemma – toss a coin.
With a sated stomach and ambitions to continue my explorations, I emerge from a side street and continue along Serangoon Road. The pealing of a heavy bell slows me down, and my attention is drawn to flashes of brightly coloured sari's shuffling in and out of a grandly structured monument. Upon closer inspection, I observe that into its triangularly fashioned, ascending roof are carved sculptures of Hindu Gods and Goddesses, visible even from a distance. The sign on the front reads: Sri Veeramakaliamman Temple 141 Serangoon Road. It is one of three main Hindu temples situated on Serangoon Road.
As is a necessary practice (and sign of respect) I willingly relieve my feet of its captivity, relinquishing my slippers it to the growing mound of footwear already strewn beneath the steps, and enter the temple. Inside is a constant buzz of priests chanting and performing rituals, worshippers with heads bowed and hands folded in prayer, and a myriad of lavishly clad, jewellery ladened idols – a truly visually artistic experience.
In order to witness a deeper, more personal devotion of the Hindu faith, the best times to visit are during Hindu festivals. Deepavali, the festival of lights, usually occurs in the latter months of the year. At such a time, Little India becomes nocturnal with bright lights decorating the streets and daily night markets. Thimithi, or fire walking, is another festival which takes place just prior to Deepavali. It is one of those experiences best witnessed in-person, as it involves devotees walking across hot coals as tests of purity.
Thaipusam, which falls early in the year, is another grandly celebrated festival. Though deeply spiritual in nature, it is definitely not for the faint-hearted, as it involves much noise making, flesh piercing processions, and trances.
Before I end my exploration of Little India, there is one more thing I need to do to prove I've gotten my Indian cultural fix. A young woman sitting on a stool outside an artifact shop is beckoning to me. Her sign reads: Henna Artist. I choose a design, and in less than ten minutes, my palms are decorated in delicate dark curves and patterns.
But as it turns out, I'm still not done, for I unexpectedly happen past an interesting sight – a tarot card reader seated cross-legged on corner pavement with a customer. He spreads out his cards and opens a small cage next to him. Out steps a bright green parrot, and under the tarot reader's prompting, hastens to reveal the man's future by choosing a few cards with its beak before retiring back into its cage for a snack. Traditionally, many older generations of Indians are prone to rely on astrology to foretell their futures. Along Serangoon Road itself, one may come across many small shop houses advertising astrological services by appointment. For now though, I think I'll boldly take my chances with this parrot man – whose predictions it appears has left the other guy beaming ear to ear!