Drive Safely – India
TIME : 2016/2/27 14:50:02
Drive Safely
India
October 3
I eventually made it to Rishikesh via Hardiwar. I was talking to an Indian woman on the train trip to Hardiwar. She says she doesn't like traveling or food so she gave me hers. Upon arriving in Hardiwar, I eventually made it to the bus station. The buses don't have set times it's just when there is enough people to go. There was a man selling pills on the bus, I'm not sure what they were for but I didn't buy any. I got the impression that he wasn't a doctor. I heard of a person that was given antibiotics that were too strong and he ended up with half his face paralyzed for a week. The bus driver drove horribly, but the only thing he hit was a "Drive Safely" sign on the side of road. I moved to the back of the bus. The actual bus was in decent shape and was colorful because it was decorated with Hindu Gods.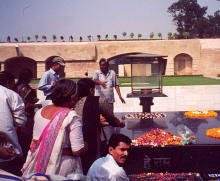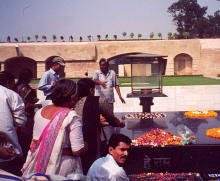 People pay their respects to Gandhi at Raj Ghat The jungle walk started with a canoe ride (the canoe took water and we had to periodically bail it out) into the reserve. Unlike Kenya, there are no jeeps instead there is a lot of walking and a short ride on an elephant. It was hot today. We did not see a lot of animals; the main one was a rhino. Our guide had instructed us on the animals. If we saw a rhino hide behind a tree, a bear make a lot of noise and a tiger stay quiet and pray. But tigers are a fairly timid animal. We did see some spotted deer and a variety of insects.
I felt safe on the elephant ride, as nothing would attack the elephant. We had to walk up a set of stairs and then mount the animal that way. My left leg was a little cramped but not too bad of a ride.
The native dance show just ended at camp. A lot of dancing with sticks and flamingo feathers. One thing to note is that a lot of the dancing replicates fighting as the dancers twirl and hit the next person with their stick while their dance partner blocks with their stick. Then they got the tourists out to dance, which is always painful to watch. Tomorrow will be my last day in Chitwan.