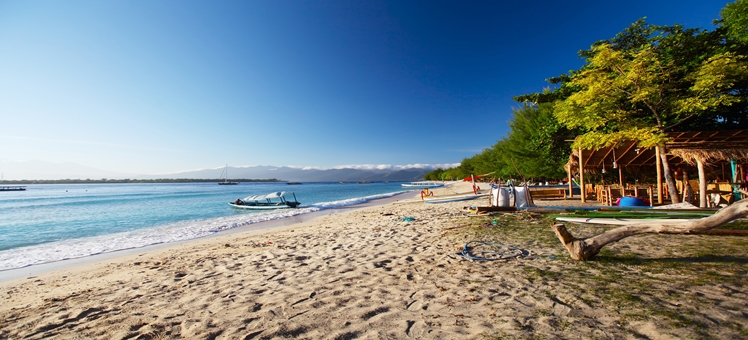 You won't find high rise hotels or flat complexes in Lombok or on the three Gili Islands. The islands retain a charmingly rustic feel with thatched huts and beachside hideaways nestled between camouflaging trees. Whilst staying true to the Indonesian surroundings the islands also offer luxury boutique hotels and villas, as well as eco-resorts and budget hostels, with homestays for a really authentic experience.
Gili Trawangan
Being the biggest and most visited in the Gili archipelago, Gili Trawangan is the most heavily developed. With more bars and beach shacks than you could shake a stick at, Gili Trawangan will keep even the most restless traveler occupied. Its many beaches are dotted with holiday makers relaxing under the sun or dining al fresco while the surrounding seas are a fantastic location for water sports.
Hotels on Gili Trawangan
As the largest and most developed of all the three Gilis, Gili Trawangan has the biggest variety when it comes to accommodation. Villas and boutique hotels provide stylish and upmarket accommodation for those with a little more to spend than the average backpacker.
Gili Meno
Gili Meno is the smallest and quietest of the three Gili Islands. Appearing untouched by mass tourism, the island is a peaceful reminder of true Indonesian life, where fishing boats bob in the bay, drinks are served on the beach and locals lounge outside shops enjoying the slow pace of life.
Hotels on Gili Meno
Due to its small number of visitors, Gili Meno's accommodation options are limited. Despite this, the choices available are not disappointing. Boutique hotels are common, with stylish and neat décor and on-site swimming pools in secluded locations, as are beach huts and boutique resorts.
Gili Air
Easily accessed from Lombok, Gili Air was the first island to be discovered but has since managed to retain its authentic local atmosphere over the years. Enjoying a slow pace of life, the island is relaxed and known for its secluded beaches. It is backpacker friendly with superb snorkelling spots and budget restaurants.
Hotels on Gili Air
Dark wood bungalows sprout up across the island, their privacy kept by the overshadowing trees and bushes. The tasteful accommodations are clean and comfortable with added charm in their beach side huts and secluded pools hemmed by swaying hammocks.
Senggigi
Senggigi is a busy stopover area of Lombok whose waters are frequented by passing boats and tourists on their way to the nearby Gili Islands and Mount Rinjani. It is known for its south facing beaches, but as darkness falls the area comes to life with pumping beach bars and candlelit restaurants.
Hotels in Senggigi
Unsurprisingly, hotels in Senggigi are reminiscent of Lombok's traditional culture: thatched roofed bungalows and villas have been modernized to accommodate 21st century facilities and accompanied by large private pools and a towering wall of palm trees.