Where to eat in Lombok and the Gili Islands
TIME : 2016/2/24 13:49:21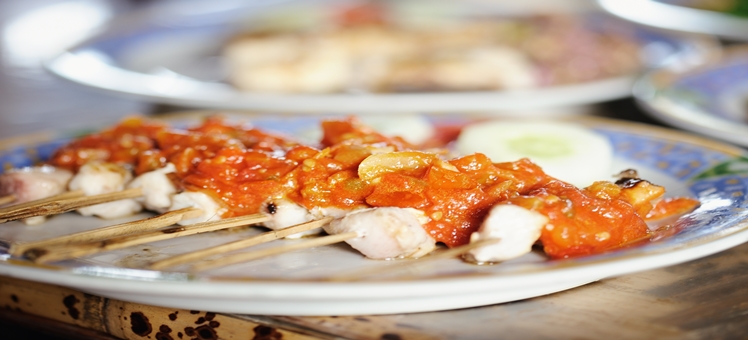 Star-lit dining doesn't get much better than in Lombok or on the Gili Islands. With secluded and often deserted beaches, diners are treated to unobstructed views of the surrounding waters within a charming and romantic setting, occasionally sheltered by charming beach huts. Night markets jostle with those wishing to try a little of everything, while freshly grilled or barbecued seafood is the main fare in the area, with international options also available.
Mataram
International cuisines are embraced in Mataram, with Italian restaurants and Asian eateries the norm. Pizza Expresso is an easy to miss restaurant located just outside the Mataram Mall whose traditional Italian recipes are a hit with the locals. Pastas, pizzas and omelettes are served across town, and at Rock Gilis Coffee the blend of beans create an alluring aroma that when paired with desserts or a crepe is unbeatable. De'Sushi brings a touch of Asia into the mix: the Japanese chain serves classic sushi dishes within a typically Japanese décor.
•
Pizza Expresso
, 101A Panca Usaha, Mataram.
Gili Trawangan
As the largest and arguably most commonly visited of the three Gili islands, Gili Trawangan has a variety of restaurants to cater to the passing crowds. International cuisine neighbors Asian fare, while fresh seafood graces the traditionally Indonesian restaurants. At The Terminal diners can munch on local recipes and barbecued seafood right on the jetty of Sentral Beach, an historically recognised site for its timbers and fine wood carvings. For a fine dining experience with both international and local dishes, Ko-Ko-Mo is a laid-back and sophisticated option. Alternatively, the island's night market is a great place to sample all kinds of cuisines for hard to beat prices.
•
Ko-Ko-Mo, Gili Trawangan, NTB. Gili Meno

Gili Meno is the least populated of the Gili archipelago with a population of around 250, and a small number of eateries to reflect the fact. The sleepy island is a quiet retreat that is often visited by honeymooners and couples looking for a secluded haven away from the rest of the world. Taking in sunset views and dining under the stars are the done things on the island, with restaurants like Mahamaya Boutique Hotel Restaurant sitting right on the sandy beach and looking out over the sea. Adeng-Adeng Beach Bar boasts romantic views of Lombok's Mont Rinani on a clear day and a colorful sky that rivals a Dulux color palette, from within its charming beachside huts.

• Mahamaya Boutique Hotel Restaurant, Turtle Point, West Gili Meno, West Nusa Tenggara. Gili Air

Full of Indonesian influence, secluded beaches and expansive plots of land, Gili Air's restaurants each have a unique atmosphere and location. At Gili Air Santay Restaurant local cuisine is served alongside dishes from Europe and Indonesia within a naturally constructed hut and surrounded by lush vegetation. Dine under the starts at the Scallywags Beach Club where white tablecloths and stylish garden chairs give off a classy vibe.

• Gili Air Santay Restaurant, West Nusa, Tenggara, 1088. Local dish

Nasi goreng translates as 'fried rice' and is a typical Indonesian dish cooked with garlic, oil, tamarind and chilli, usually served with ikan asin (salted dried fish), egg, prawns or chicken.