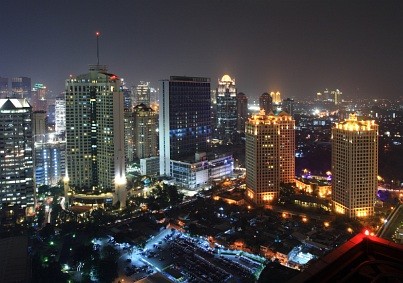 Jakarta covers most types of interests in the entertainment department. There are many lively streets for party-goers, a waterfront entertainment complex nearby that comes complete with a beach, and plenty of museums and cultural attractions.
The Ancol Dreamland complex in the northern part of town is particularly fun as it has an amusement park and fun attractions for the kids, a golf course for dads, great shopping for mums, and a beach for all. It is also the launch point for the stunning Thousand Islands region.

The capital also comes with historic districts and unique open-air museums which highlight colonial contributions and the culture of the various regions of Indonesia down to a tee.


Ancol Dream Park
Taman Impian Jaya is the number one entertainment attraction in Jakarta. It features fun rides for kids at Fantasy World and boasts the largest aquarium in Southeast Asia, as well as a beach and plenty of hotels, restaurants and a golf course. It is served by train and bus.


Beautiful Indonesia in Little Park
Taman Mini Indonesia Indah appeals to the more discerning type in search of a splash of culture and history, with a side helping of entertainment. It is particularly good for folks with kids owing to the hands-on museum and IMAX theater.


Thousand Islands
Those who are into sailing should perhaps check out the Thousand Islands region of Jakarta Bay, which is in fact home to around 120 little islands. Many of them are deserted and have perfect secluded beaches where you can snorkel or bathe in peace. The Thousand Islands are best visited outside the rainy season, with March through June the nicest time.
Water sports
The Thousand Islands is the best place for having fun in the water and has the closest snorkeling and diving to the Indonesian capital. You can do daytrips from Ancol Marina (North Jakarta) or head for one of the islands and stay in a resort there. Kul Kul Kotok Island Resort is particularly nice. There are also water parks at Ancol.


Ragunan Zoo
Ragunan Zoo in south Jakarta (Pasar Minggu) is a sizeable site with thousands of species of wildlife including the much ballyhooed and rare Komodo dragon. The zoo is nicely done with natural habitats and lakes and is good for a day out for the whole family outside the main December through March rainy season.


Nightlife
Jaksa Street (Jalan Jaksa) is one of the touristiest streets in town and is particularly popular with backpackers and those after cheap digs and entertainment. There are loads of bars and clubs here, including a Hard Rock Café, and Fatahillah Square is especially lively. Expats also head for Jalan Wahid Hasyim for its quieter, more refined nightlife, while Blok M and Chinatown also have good options.

Find more information about Jakarta and hotels in the area:
Jakarta hotels | Indonesia hotels