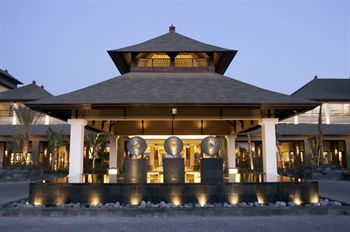 Nusa Dua is almost a mirage, set on the eastern side of the Bukit peninsula. The BTDC (Bali Tourism Development Corporation was set up in 1972 to develop low quality land into luxury accommodation. The Nusa Dua complex was built in 1984. Nusa Dua feels different from the rest of Bali and is accessed by one of 3 main gates, marked by enormous candi bentars (Balinese split gates). Upon entering one will notice finely kept lawns and well made roads and sidewalks. One will also notice the absence of Balinese locals, except for those working in the area.

Staying in Nusa Dua has definite advantages and disadvantages, which are:


Advantages of staying in Nusa Dua:
Accommodation is of a high standard.
The whole area has been kept to an international standard (roads, sidewalks, shops etc.)
There are security checks on all vehicles entering the area.
You will not be harrassed by locals selling things outside the hotel.
The resorts in NusaDua are large and most feature a selection of restaurants, swimming pools and activities.
All the Balinese people you come into contact with will smile and offer to help you.
Disadvantages of staying in Nusa Dua:
Accommodation can be expensive.
The area is designed not to feel like the rest of Bali.
You will not get a true impression of Bali by staying in Nusa Dua.
The large resorts encourage you not to leave, except on packaged day trips.
Resort staff are told to smile and be polite, so your interactions are somewhat contrived.
There is no real nightlife in Nusa Dua so you'll have to get to the Kuta area via taxi.
Still Nusa Dua does offer great service for part of the tourist market. If you want a relaxing holiday, with a high level of luxury and security, were you are going to be pampered and enjoy not being bothered, at a beach-side location within 20 minutes of the airport, then you can't do better than Nusa Dua. Busy executives, large wedding parties, honeymooners, lottery winners etc. will all appreciate the easy access to creature comforts, affording them the time to relax.
Top Hotels in Nusa Dua
The Bale – The Bale offers the ultimate in style and comfort. And with only 20 or so rooms, you don't have to worry about sharing that comfort with families on vacation. The hotel tends to attract older couples and honeymooners who want a quite and relaxing hotel. Rooms include candle lit areas with a private shower in a scented garden. The only drawback here is that you pay for all this privacy. About $600 a night and up.
>>book a room at The Bale
The Laguna Resort & Spa (formerly Sheraton Laguna) – If you are looking for a relaxing and pampering resort in the Nusa Dua area, this is the place for you. While there are other similar hotels in the area that are a little less crowded, they are about three times as expensive. For the amount you pay here, around $200 a night, you can't beat it. The property rests on the beach and is enclosed in a secure and beautifully landscaped lush garden setting.
The St. Regis Bali Resort – At the The St. Regis Bali Resort you will find an amazing and the perfect location. The hotel blends 1800′s architecture with modern day design. The property features a number of lagoon style swimming pools, full service spa, and a variety of amazing cuisine. While some families with children can be found here, it is more popular with older travelers and honeymooners. This probably has something tod i with its $800 a night price tag.
Nusa Dua Beach Hotel & Spa – The Nusa Dua Beach Hotel & Spa is another hotel and spa that is similar in size and price to that of the Laguna Resort and Spa. The Nusa Dua Beach Hotel & Spa is especially cool because its rooms, decor, and landscaping are similar to that of traditional Balinese culture and not just your typical nice hotel room. The price and style of this hotel make it a popular choice for all types of tourist and budgets.
>>book a room at the Nusa Dua Hotel & Spa
Ayodya Resort Bali – The Ayodya Resort Bali is one of the lower prices resorts in the area, but that doesn't mean its a cheap resort. The beachfront, five story resort has well maintained landscape and gorgeous pool. The resort is much larger than the others listed above and the rooms are more typical hotel style rooms. But, if you are on a tight budget, but still feel like living it up, this resort can help you achieve such a goal.
The peninsula thats extends north from outside the north gate of the Nusa Dua complex is Tanjung (cape) Benoa. This strip of land also has large luxury resorts of a high standard. One of the very best is the Conrad, with spacious well appointed rooms and a massive lagoon swimming pool. Tanjung Benoa has 3,4 and 5 star rated hotels, some of which go for around $40-$50 per night.
Tanjung Benoa Hotels are as follows:
• The Bali Khama
• Conrad Bali Resort & Spa
• Suites Hotel Bali Royal
• Club Bali Mirage
• Novotel Benoa Bali
• Bali Tropic Resort
• Reef
• Grand Mirage Resort
• The Benoa Beach Front Villa
• Matahari Terbit
• Aston Bali Resort & Spa
• Ramada Resort Benoa Bali
• The Oasis Benoa
• Kind Villa Bintang
It is possible to find budget options right in the Nusa Dua / Tanjung Benoa area. Hotel Bualu is located just to the west of Nusa Dua and is a low-key place good for families. Tanjung Benoa has a section of very affordable accommodation