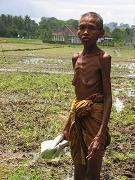 Bali is one of the most unique islands in the world, because of its geography and people. Bali and its colorful culture have been touted since the 1930′s, back then New York newspapers reporting a 'lost paradise' rediscovered, complete with decadent ceremonies, topless women, mysterious spirituality, all played out in front of a tropical backdrop of emerald rice fields and brooding volcanoes. One can imagine how people in America and Europe chatted about this strange and exciting place and how a few wealthy people managed to travel halfway around the world and visit the island. Miguel Covarrubias's book, Island Of Bali describes better than any other, the elements of daily Balinese villages life in those days. In many village in Bali in 2007, life has not changed that much for some people, except the handful of modern appliances that people have become acquainted with (motorbikes, cell phones, electric lights).

If the traditional Balinese lifestyle is still alive and well for the most part and the island is still a wonderfully beautiful place to visit, why do some tourists leave without ever managing to access that? Why are the sights and sounds that are all over the island, the small local ceremonies, wonderful views, personal interactions etc. things that many people do not get to experience, instead leaving with the view that Bali is a shopping mall, with pushy locals?
Three words cover most of this: Fear, marketing, transport.
•Fear:
Stepping off of a plane in third world country can be intimidating. Most people want to get to their hotel and take it easy, slowly discovering their way around. The frantic traffic and 'in your face' nature of some street vendors, means many tourists feel out of their depth, at least as far as taking total control of their own travel plans. Instead they often stay where they are (Nusa Dua, Sanur, Kuta) and enjoy what is around them. A side trip to Ubud / Kintamani / Bedugal for the day might be the big adventure.
•Marketing:
The Bali tourist industry combines to funnel you into booking package deals in large hotels, rather than booking single nights as you go. This means people feel tied to their resort, not wanting to be away from it overnight. With so many hotels and 'tourist information' booths offerings day tours, one would think that is the best way to see Bali, because everyone else is doing it.
•Transport:
There are a handful of factors that will have a massive effect on your trip, no matter where in the world you travel. These include who you go with, the duration of your trip, finances, the weather, your health and your mode of transport. Why is it that intelligent, independent minded people have come back from an overnight trip to Ubud, feeling let down ('just wall to wall shopping and no nightlife'). If you hang out in Ubud within a 4 block radius of downtown it will feel like a shopping mall for tour groups, in the evenings conspicuously quiet. With one's own transport the traditional, scenic, atmospheric village aspects of Ubud and the surrounding areas are within reach. If you take ANY small lane north from Jl. Raya Ubud, you will see stunning scenery in about 5 minutes. If you go directly east from Jl. Raya Ubud, taking the small lane that swings north, in a space of 15 minutes you'll see village people, rice-fields, people bathing, farmers in straw hats, the lot. Sanggingan which is NE of Ubud has a lounge bar (Onzigo) open till 6am with a DJ and sexy dancers!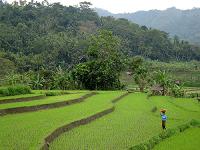 Bali is small island, its not like North America or Australia where it take 8 hours to get to your destination. Here within 2-3 hours you can access most places on the island from Kuta. Backpackers on a RTW trip understand how easy its is to find accommodation. In villages you've never heard of there may be a 'local type of accommodation' simple guest houses with fan and cold water, allowing you to show up at a minute's notice. Bali also has an amazing number of independent boutique hotels, many in remote areas. Where to stay should never be a problem in Bali.
Going about organizing your own transport is way easier than you might imagine. Main streets in Kuta, Legian, Seminyak, Sanur etc. have many car rental places, visible by the 'Car for rent' sign on top of the parked cars. With an International Driving license you can be on the road within 20 minutes. Another great way to go is to arrange a car with driver, taking all the stress out of it for you. Go to a car rental place, negotiate the cost of the vehicle, say 150,000rp for a Taruna / Kijang (the newer the vehicle the higher the cost), then ask the guy if he can provide a driver who speaks English. The best thing is to arrange this the day before you are leaving so the driver can get himself ready. Offer 60,000rp per day for the driver. You are responsible for the petrol and at the end of the day, give the driver a small amount of cash to find a local room, if you are staying in a boutique hotel.
Having this freedom to explore and a local with knowledge can be a worthwhile investment. Still, you might have to direct him a little bit to venture down lanes he is not familiar with. Balinese locals are somewhat familiar with the usual tourist spots and may want to go point to point. You don't want this so feel free to be creative. I tell you, taking a winding country lane at low speed, checking things out and stopping at roadside drinks stall to chat with the locals is one of the pleasures of being here. You will never be disappointed with Bali if you allow your the freedom to actually explore.